There will be a time and place to give the origin story of me fishing Helton Creek, but this isn't it. This is simply a time to chronicle a day I was out there.
It is the last few days of my 2.5 week residency here in Ashe County, NC. I'd scheduled this to be a day of fishing – nothing else on the calendar. Furthermore, I wasn't going far afield to do it. First, I didn't want to drive any significant distance. But just as importantly, I wanted to be in familiar waters. If I caught a trout, that was great, amazing. If I didn't, to paraphrase John Starling, I'd be wading through my creek of memories.
I got in touch with Brian Stewart, who had taken me fishing over toward Chilhowie on Thursday. Is there any good fishing on Helton? He started talking about Mount Rogers School, and the memories flooded back. Decades ago, Dean C. Jones and I would park his old Ford Bronco right there and fish down to the bridge where Route 751 heads down into North Carolina, then up to the Lutheran church.
We'd also walk up 751 the other way. His brother-in-law had a homestead behind the school. The creek ran right between the two, and got no fishing pressure because it was on private land. I mean, except the odd brother-in-law and his much younger cousin.
Dean C., man. There's a whole story there. But suffice to say that a thread of my best life runs through the times he and I were chasing trout around Grayson and Smyth counties in Virginia, and Ashe County in North Carolina.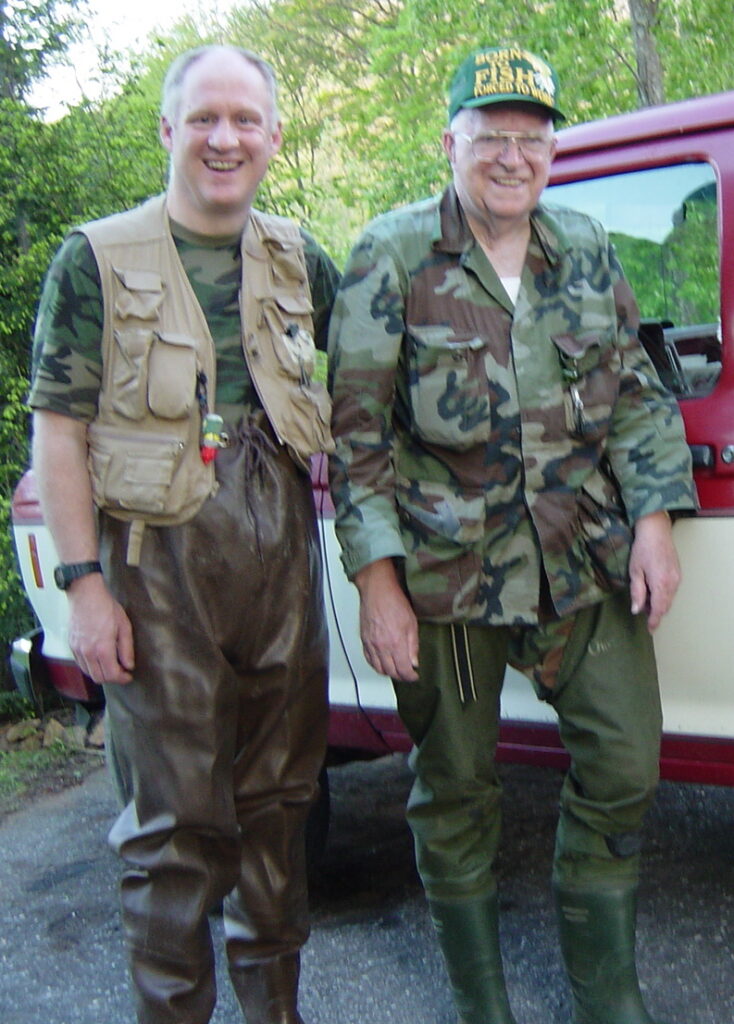 This morning at 11:00, I parked here. I put a #14 Adams on my fly rod and climbed in the creek…
I was perfectly prepared to get skunked – I was content. But it wasn't ten minutes before there was a solid splash at my Adams and I was tied into a fish. He got off, but I knew they liked what I was offering.
Just a few minutes later, another splash and this time I got the 7″ wild rainbow trout to me. I dipped my hand into the water to wet it before I held him (it avoids damaging the protective slime on their skin), slipped the barbless hook out, and gently put him back in the water.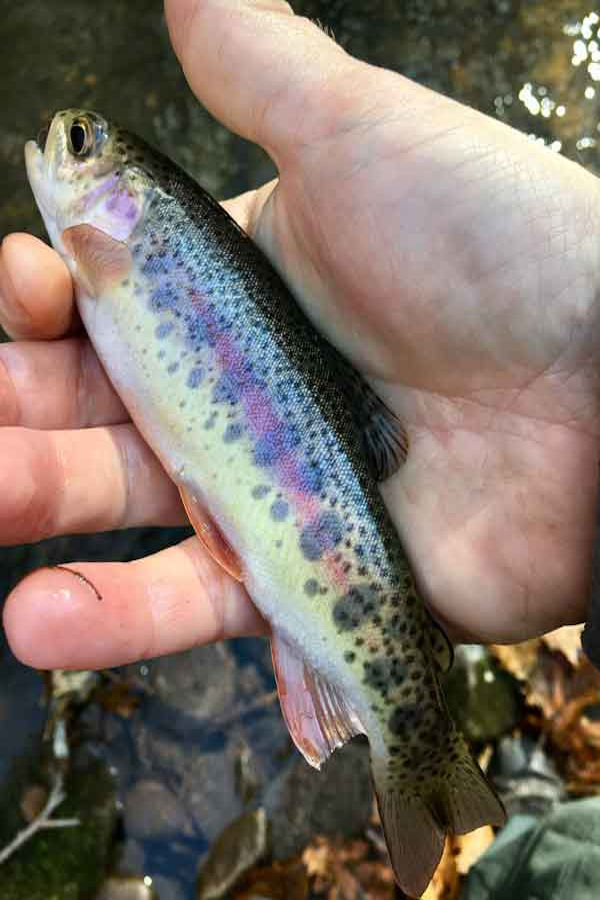 He looked just like that, but that's not him. I'm not going to keep them out of the water longer than necessary.
That's how I spent the next two hours. I'd float the Adams over a likely looking spot, and more often than not, a trout would appear out of nowhere and smack it. The fisherpeople reading this will understand me when I say it seems impossible. The water is clear, and you can see to the bottom. But you float the fly there because, well, there has to be a trout there. Even though you can see that there isn't one.
But there is one, and it smacks your fly.
Relatively few of those strikes resulted in hooked fish, but a trout striking a dry fly on the surface is half the fun of fly fishing anyway.
I think the biggest one I landed was 9″. Oh, but I hooked a big one. It was in a gorgeous sun-dappled hole just above the bridge where 751 crosses over the creek. I knew there was probably a handful of fish in there, so wasn't surprised when the Adams got smacked. But it wasn't so much smacked as it was smashed. My rod doubled over. The fish dove, then came straight up, a foot out of the water. When it hit the water, the fly went the other way. Critter was probably 12″. Maybe a hair bigger.
"I fooled you – you outmaneuvered me. Fair enough," I said.
After 90 minutes I stopped getting strikes. It was sunny but cool, and the stream is well covered by rhododendron and other foliage. I didn't think it was the mid-afternoon doldrums. I took a look at my fly.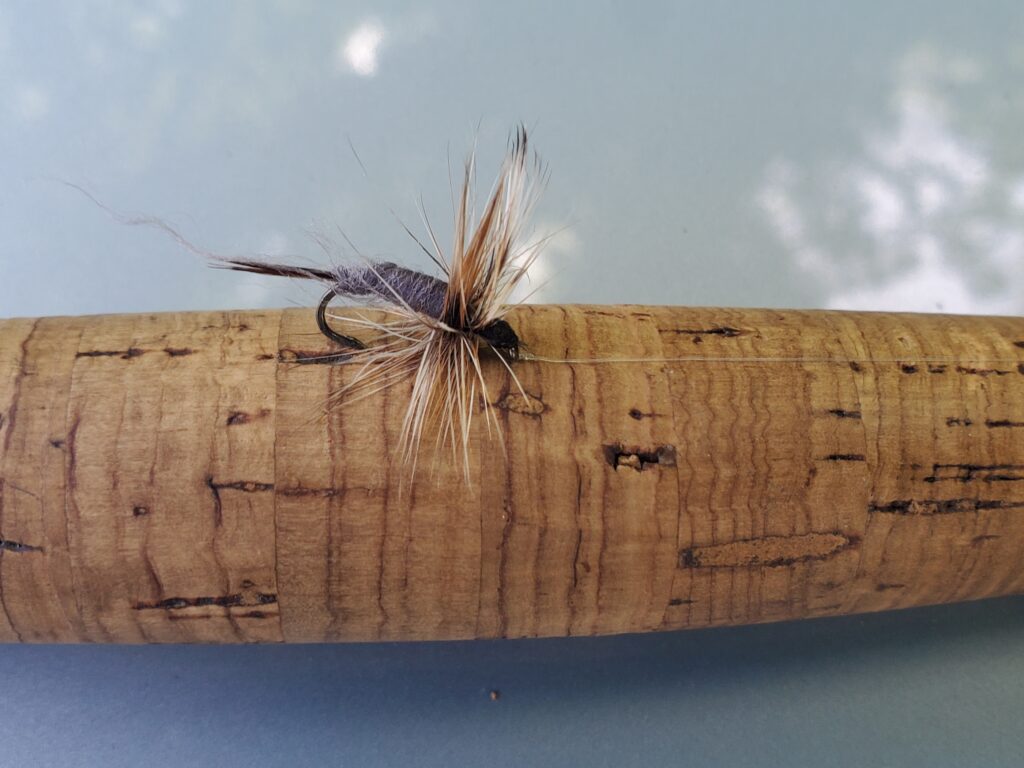 This rarely happens to me, but the fly was literally worn out. It had been chewed on by too many trout.
I put on a fresh fly – it looked Adams-y to me. I'm sure my serious fly-fishing buddies would be able to tell me the difference. [1] Anyway, it started getting strikes again, so that must have been the problem.
One of the trout I caught looked a bit different as I pulled it in, and sure enough, it was a wild brown.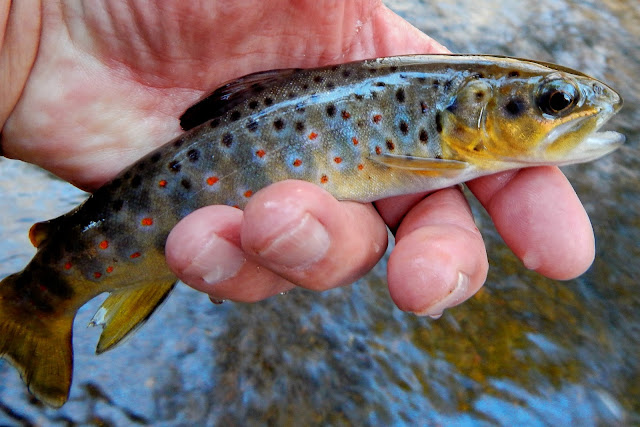 After a while, I decided it was time to call it an afternoon. "After the next one I land." That took 15 minutes.
As I looked around, I realized that I was likely on the edge of Gayle Price's (Dean C's brother-in-law) old homestead. I didn't recognize it because in the days we fished there, Gail mowed right up to the creek bank. But I could see a big house being remodeled across the field from the creekside brush.
I climbed out – sure enough, it was Gayle's old place. A middle-aged couple came out the front door. Obviously they're remodeling/restoring the place themselves. The woman called out, "This is private property!" Which, fair enough.
So I walked across the mown portion of the field. Turned my hat backwards so they could see me, and introduced myself. Talked about Dean C. ("Oh, Dr. Charles Jones's dad!"), and next thing you know, Bob and Sue Revels were telling me the stories of how they got the house, and one of Gayle's dogs, to boot. They're fine folks and were awfully gracious about some random guy climbing up out of their creek and wandering across their yard.
Eventually I let them get back to their flooring, and I walked back to the road and my car.
Yeah, I stopped at the bridge and tossed my fly in. Landed another rainbow, but the big one wasn't having any of it.
Single best solo fishing day of my life – today, June 18th, 2022, right here on Helton Creek.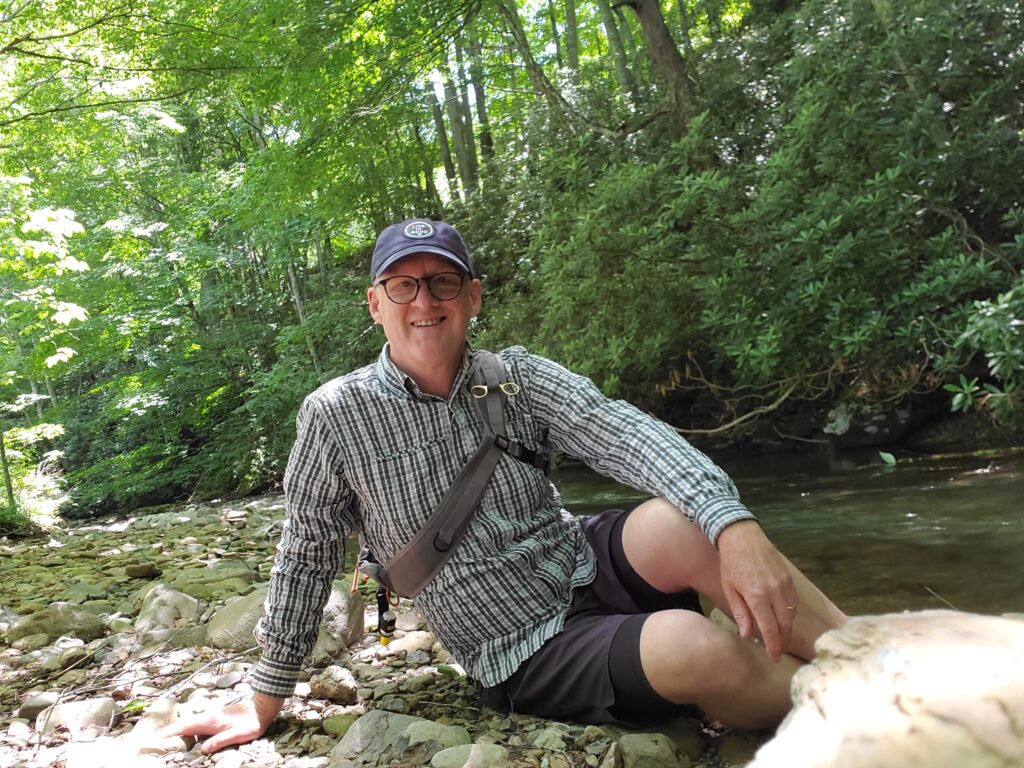 ---
[1] I really hope there's a dry fly called a Morticia Adams