Dear Elena,
A little history
My dad's parents, Hunter (senior) and Mattie, grew up in a tiny little community called "Helton," in northwest North Carolina, just a few minutes from the Virginia state line. They ended up moving to Charlotte, and that's where my dad grew up. But in 1951, they bought some land and built a summer home ("the cabin") in the community where they'd grown up.
They would spend as much time up there as they could, during the summers. My parents visited them there, even before I was born. So I was going to "the cabin" in a stroller.
As I got older, Helton and the cabin was my favorite place in the world. At first, it was just the creek to play in, the sound of the water rushing over the dam, and the seeming endless forest that surrounded us.
I got a bit older, and became obsessed with fishing in Helton Creek. At first it was just chubs and other "rough" fish. But after I caught my first trout, well, I was hooked.
The years passed, and I went to Helton whenever I could. I've got 6-7 generations of ancestors buried in the family cemetery behind the white house across the creek from the cabin, going back to the early 1800's. I call them my "friendly ghosts," and they make me feel welcome and happy whenever I'm back there.
So when you were born, I always had a dream of taking you to the cabin, and introducing you to Helton Creek. I also wanted my friendly ghosts to get a look at you, and see what an extraordinary grandchild I had gotten in the inimitable E-blast.
Some years ago, Ana and I ended up owning half of the cabin, but because we lived in California, it was really hard for us to look after it. Fortunately, in 2020, we were able to sell it to my cousin, Greg Pool, who lives in the Greensboro, NC area. Greg and his family moved into the cabin during Covid, Greg taught from there, and his kids (Liam, Avery, and Lily) went to Zoom school there.
Once I'd met the Pool family, I wanted you to meet those cousins too – they're pretty cool people.
Elena goes to the mountains
This year, your parents were kind enough to let us arrange a visit to the mountains for you and your dad. Ana joined us too, so we had a group of four of us, staying at a house in a place called "Fee's Branch Road," about five minutes from the cabin.
I flew in a couple of days before everybody else, got the AirBnB opened up, and groceries in the refrigerator. Then I drove down to the Charlotte airport and picked you two up. It was time to head up to the mountains!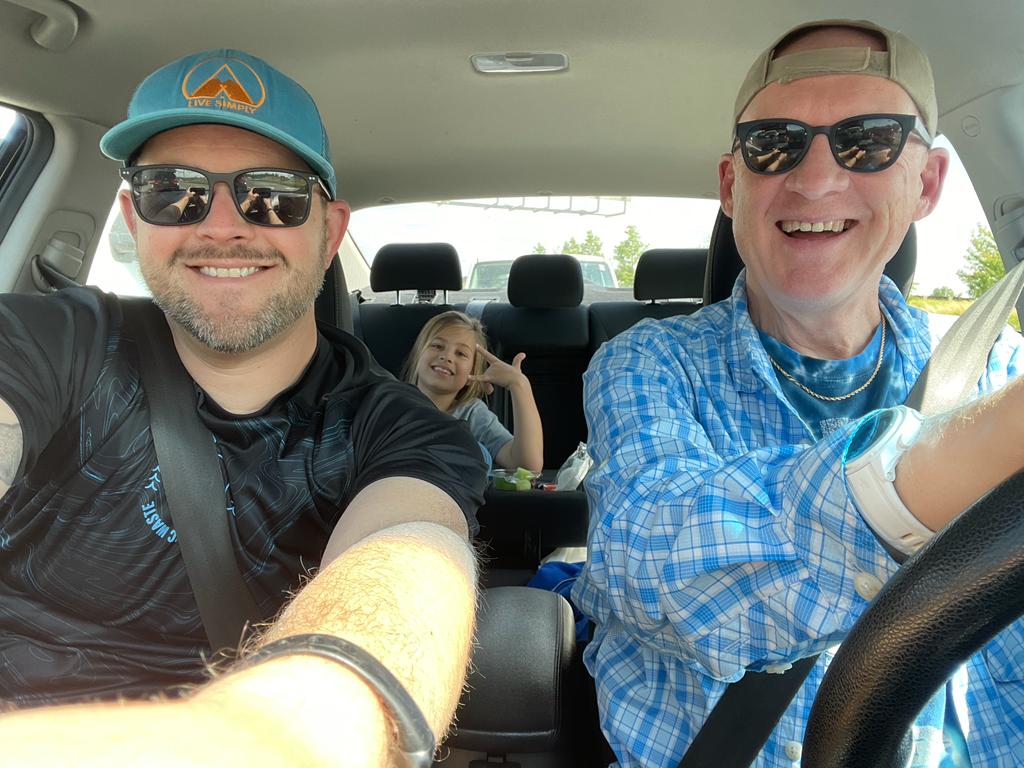 It was about a 2.5 hour drive up to the AirBnB from the airport. You played on your tablet most of the trip, but as we got to the mountains, you rolled down your window. "There's so much to smell!" Yes, a lot to smell up there.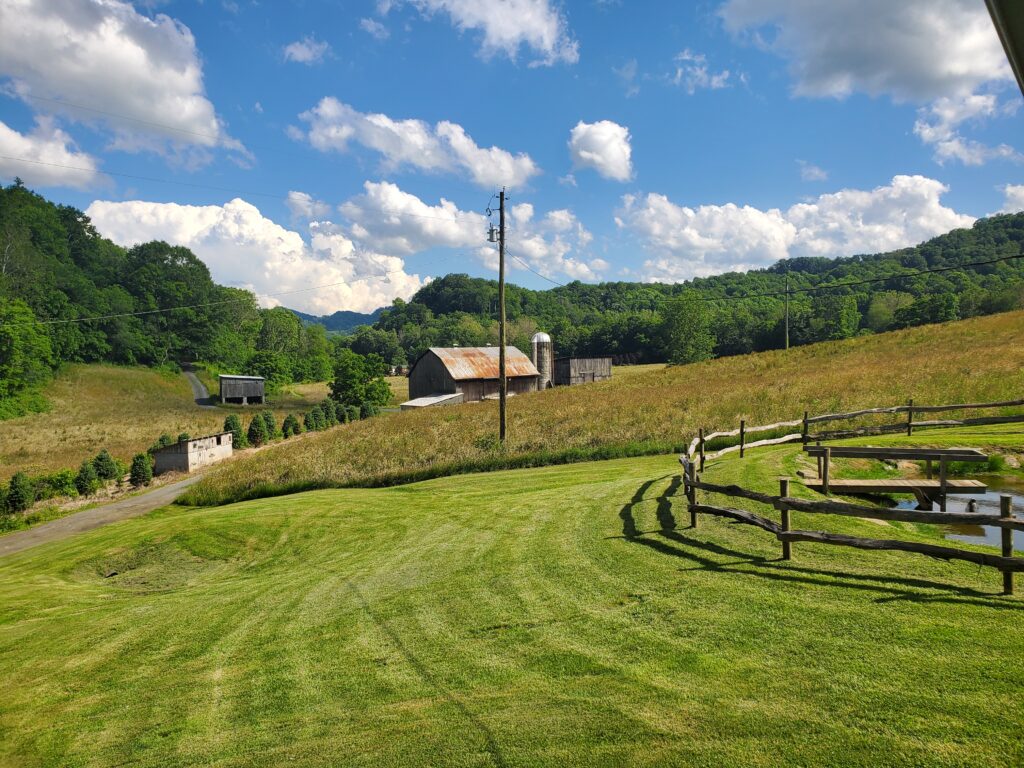 Fishing
That evening, we outside and fished in the pond right next to the house. It was full of very stupid largemouth bass.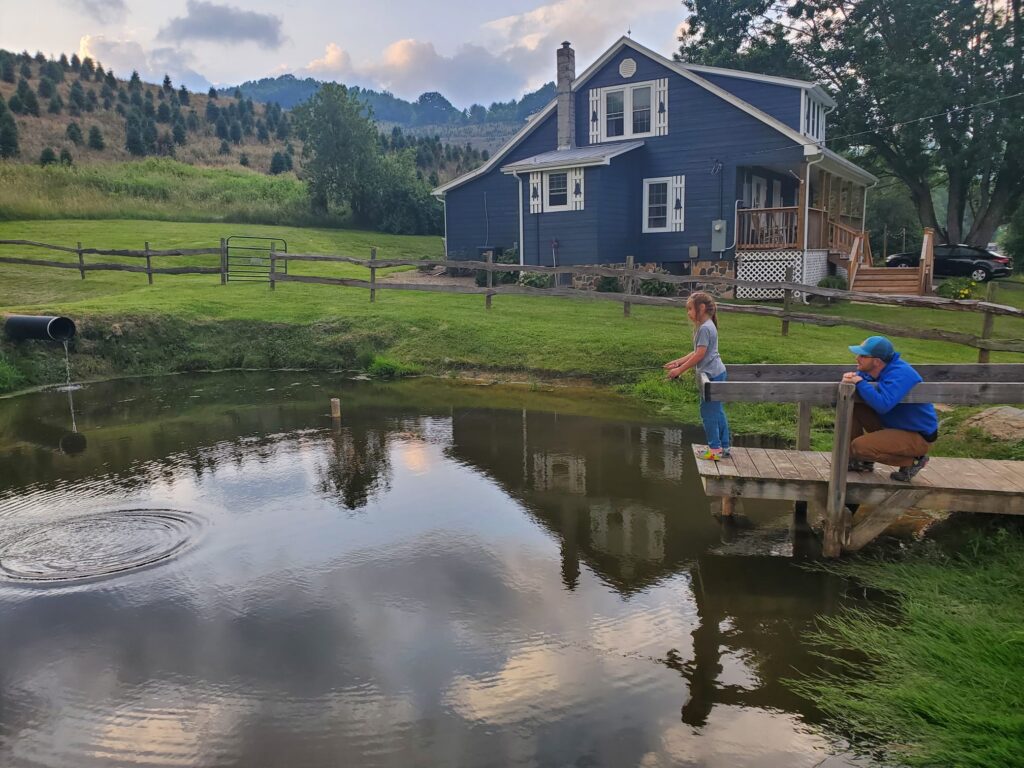 You didn't catch any fish that evening, because we didn't have any worms, but you got a couple of strikes, which was super cool.
The next day, Ana was going to be coming in from Charlotte in her own rental car, so you, your dad, and I had the morning and early afternoon to ourselves. We drove down into West Jefferson, the nearest real town. We needed a few grocery things, water shoes, and worms!
We got you the coolest water shoes ever, and then went to a store where your dad could get some local beers. This is you and me sitting outside that store.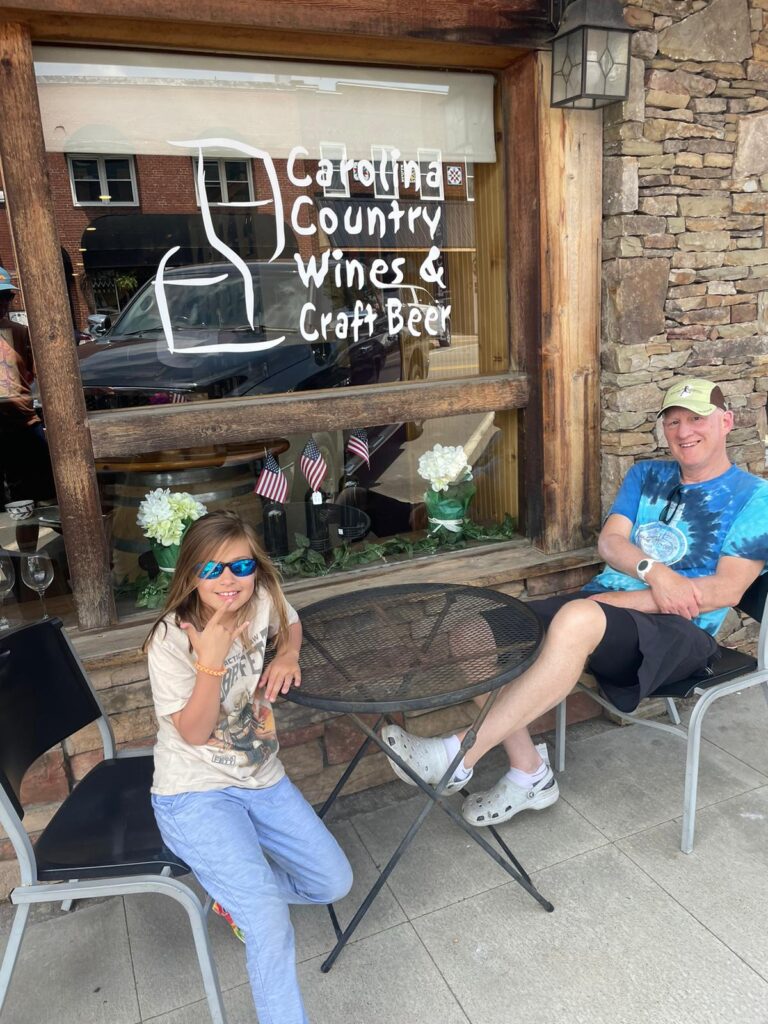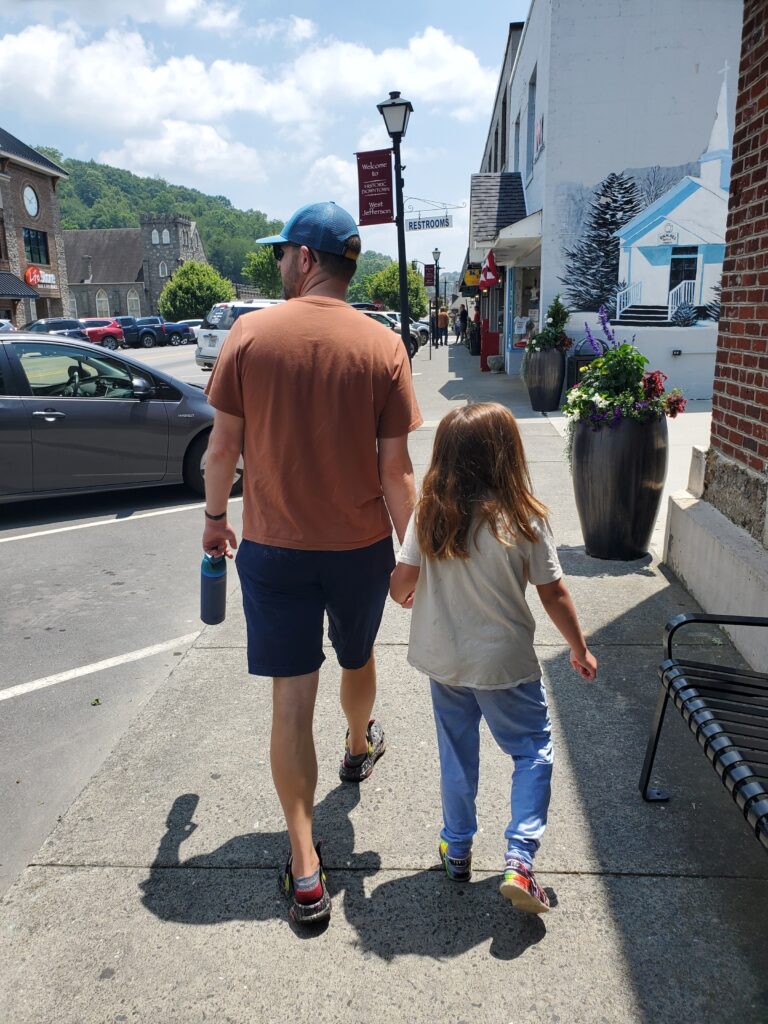 We also found you an excellent ice cream cone of "orange dreamsicle." Then we went to Wal-Mart. We split into two teams: Team Hot Sauce (David), and Team Worms (you and me). We found our worms immediately: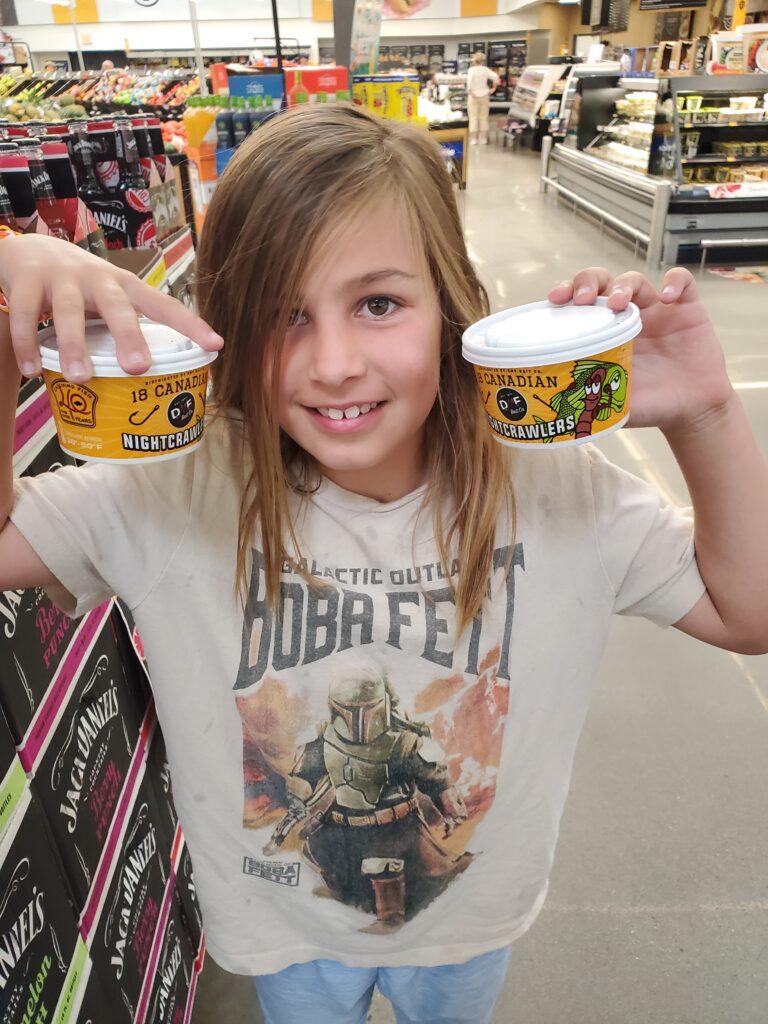 I think we won the contest.
Then we drove back up to the house, and pretty quickly headed back to the pond. We put a worm on a hook, and pretty soon, you had hooked your first fish – a largemouth bass! You got it to the shore, but you wanted me to hold it while you got the hook out. We did that one just fine.
The second one you caught, you couldn't get the hook out, so you asked me to get the hook out of it. I was working on the hook, when I felt a hand up on my shoulder. It was you reaching up to grab the hemostat that sits in a magnetic clip on the strap of my fishing bag. You wanted the hook out of the fish, and the critter back in the water right now. I was so proud of you. Pretty quick, I had the hook out (we had squished down the barb of the hook) and the bass was back in the pond.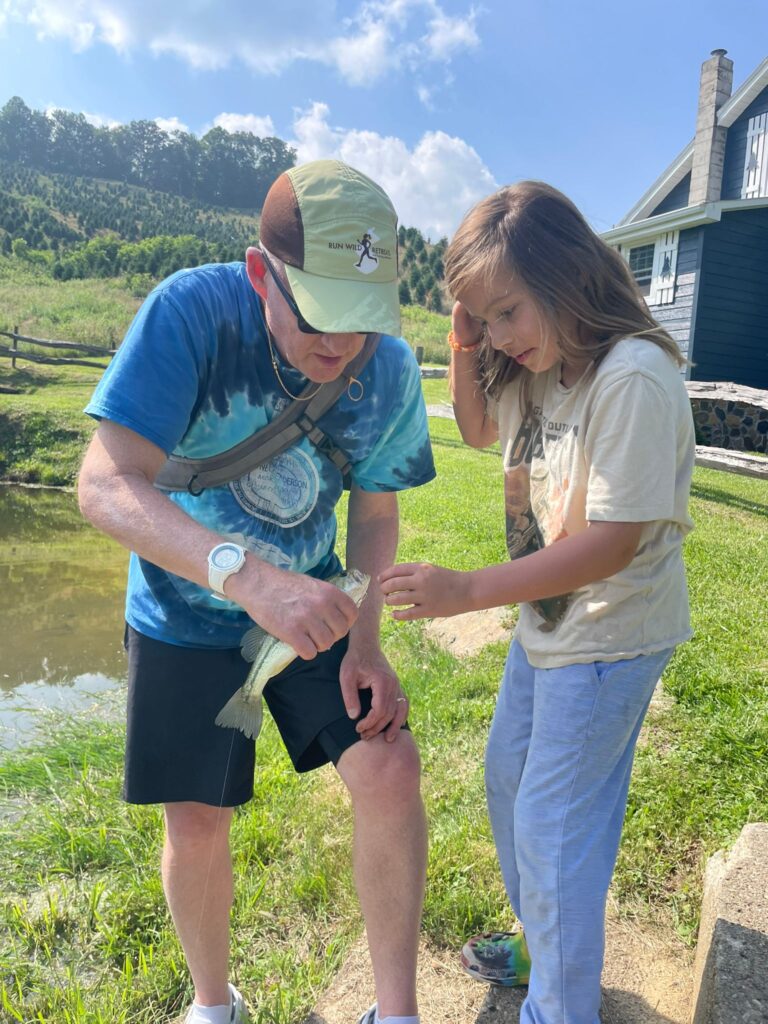 "Thanks buddy!" you said. My heart leapt with joy.
Ana arrives
Ana arrived that afternoon, after flying out from California. She got lost on the road that runs by our AirBnB, so we were sitting on the porch, talking to her on the phone, and could see her car going back and forth past our driveway. "No Ana, turn around and go back 100 feet!" you said.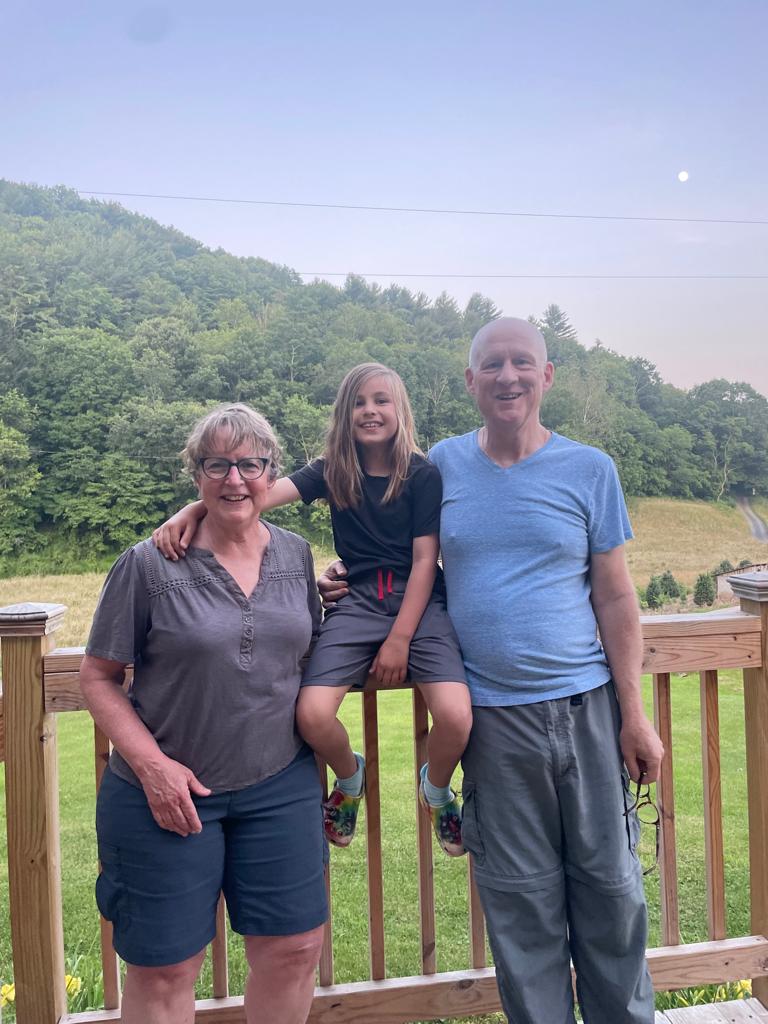 The Pools and the cabin
Our next day was a play date with our cousins, the Pool family. We got to the cabin, and I asked Avery if she could give you a tour. Y'all were out the door and gone. We visited with the Pools a little, and ate some lunch, but then it was creek time!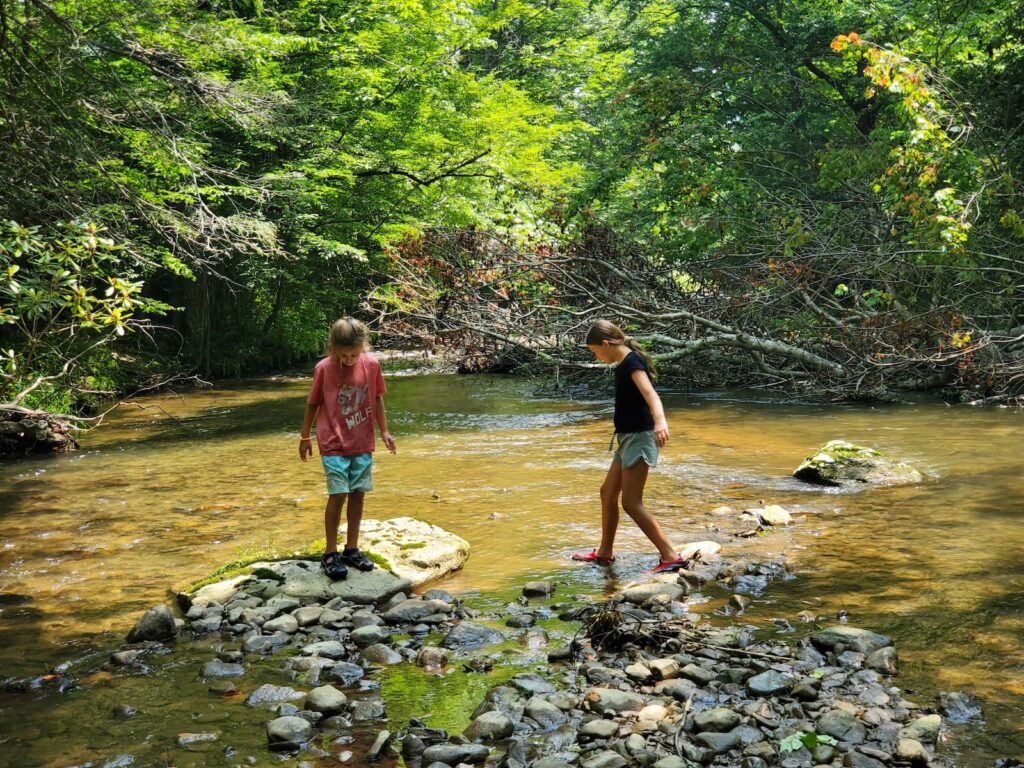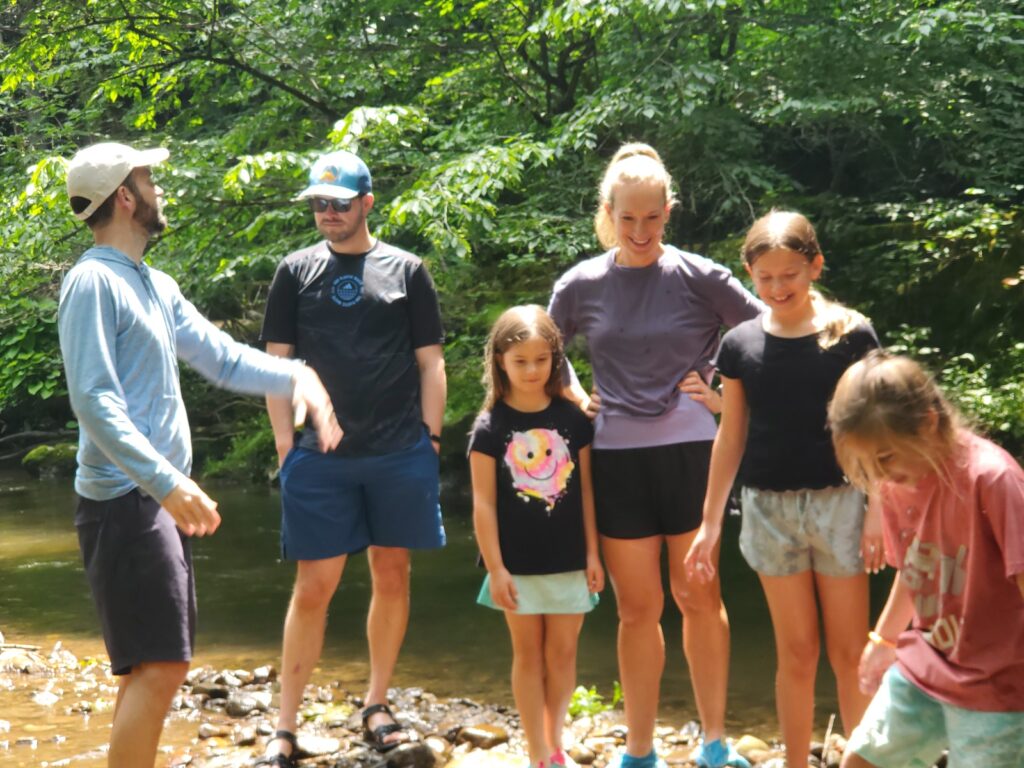 I cannot express how much it meant to me to see you playing in Helton Creek. I played in that same creek, that same place, 60 years ago when I was a kid. And 60 years before that, my grandmother, Mattie Perkins, played in the same creek, in the same place – I've seen an old picture of her standing in it with her sister, Clara. That was in the early 1900's – over 100 years ago. I don't know this for a fact, but it's quite possible that her grandmother played in that creek.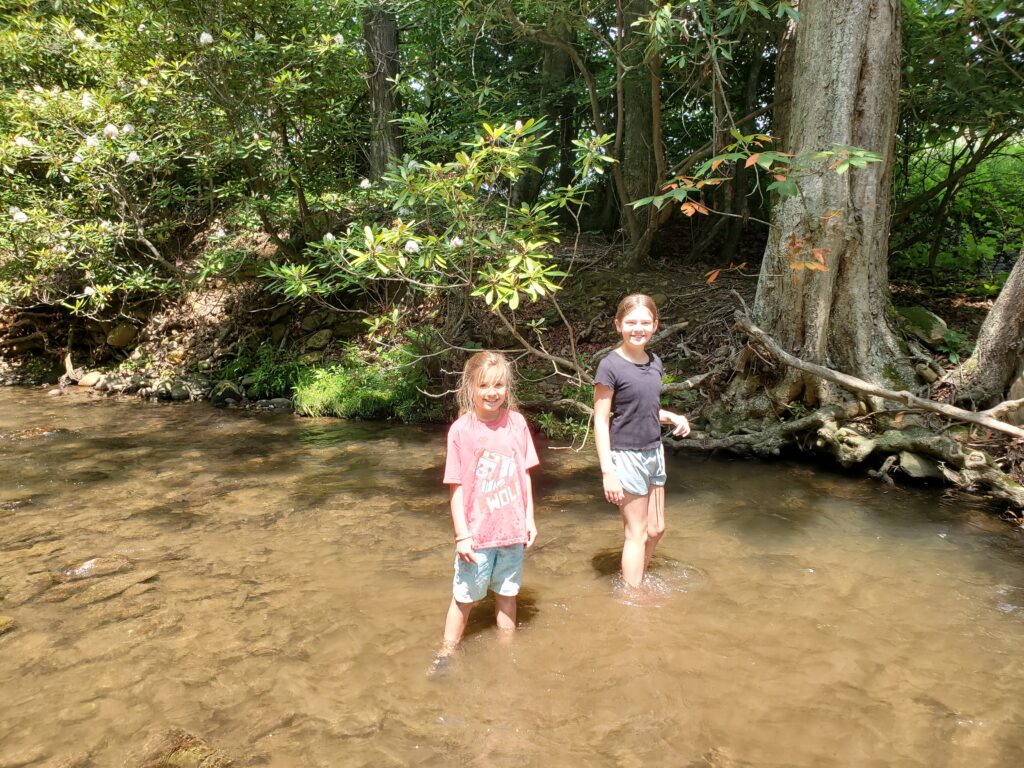 You had such a blast playing in the water, as I knew you would. It was especially fun because the Pool's dog, Figment, thinks of Helton Creek as his own private swimming pool.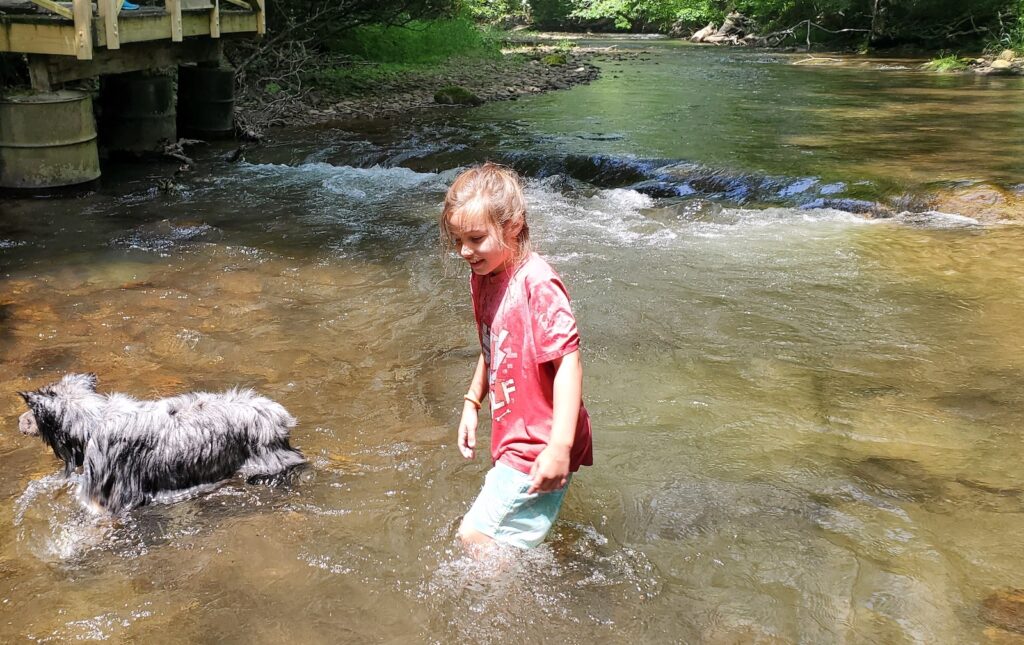 After that, we all sat on the bridge and just "visited." Well, you stayed there for a little while to see if your dad would catch a trout (he did) but then you and Avery disappeared to go explore.
Blueberries
The next day was blueberry picking with the Pools. We drove out to Old Orchard Creek blueberry farm…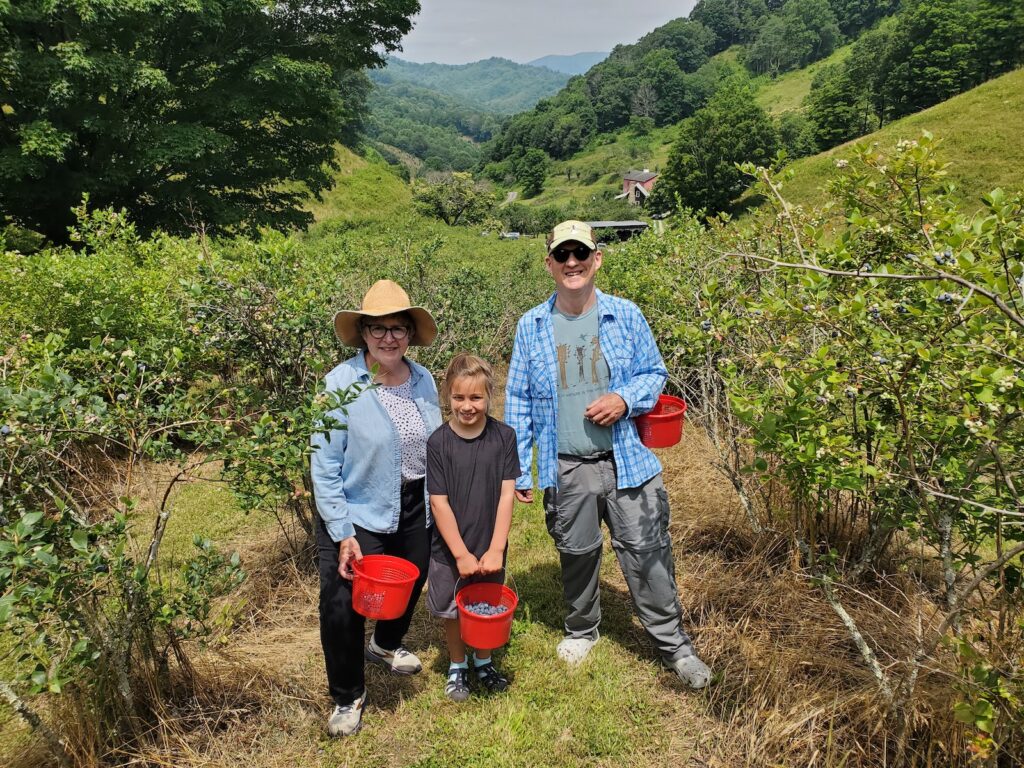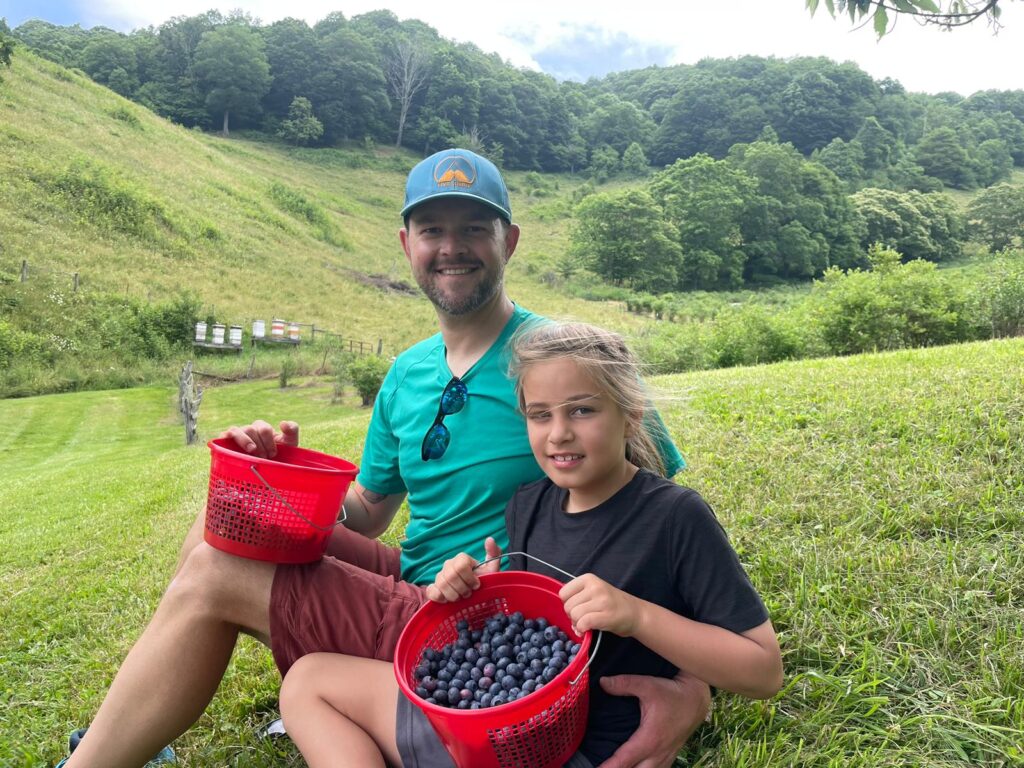 We ended up with so many blueberries that we froze them. Then after you left, I made blueberry jam. I still have a few jars of it at our house in San Leandro.
Swimming hole
The next day was your last up in the mountains. The four of us had a quiet morning, and then went to the "swimming hole" on Helton Creek. For two hours, we did nothing – and everything – in the creek. Your dad decided to send a giant log floating down the creek, and spent 20 minutes maneuvering it into position so it would float.
But mostly we just waded around enjoying being in the creek on a warm summer day. At some point, I found a crawdad with just one claw. I lifted it out of the water so you could see it. It was a female, and she was covered with eggs on her underbelly. This blew your mind. You looked at her for a few seconds, then said we had to get her back in the water.
I put her under a rock, and then for the next minute or two, you stood right next to the rock to be sure none of us stepped on her.
Somehow, two hours flew by and we never noticed.
Time to go
The next day, we all drove back to Charlotte. You and your dad flew back to California, while Lisa and I drove up to Asheville to visit a friend.
Elena, I don't know if you'll remember much of this trip, but that picture of you playing in Helton Creek is the wallpaper on my computer. And the image is stored in my heart forever.
And somewhere, those old friendly ghosts, my grandmother among them, are smiling. "You got a good 'un there, Lee," they're saying.
Yep, I got a good 'un.