I am a live music junkie, and I've been to my share of shows.
I've seen Chanticleer sing Renaissance polyphony by candlelight. I've seen the National Symphony Orchestra in full swing with Mstislav Rostropovich at the helm. I've seen Stephen Stills and Neil Young prowl around a stage, glaring, daring each other to produce a better solo during For What It's Worth. I saw Chicago, at their height in the early 70's, horns and Robert Lamm's B3 raging. I sat in the rain while Tony Rice and Bela Fleck traded licks at Merlefest. I was the old white guy in the middle of the auditorium in Berkeley, losing my mind as George Clinton and Parliament brought The Funk. I sat in the 4th row and watched Yo-Yo Ma play trios with old college friends. Linda Ronstadt bouncing across the stage at Shoreline. Broadway performances of Joseph and the Amazing Technicolor Dreamcoat and Godspell. I saw Ladysmith Black Mombazo sing and dance with Joseph Shabalala directing the entire affair. I was down front to watch the original Seldom Scene perform Wait a Minute. I stood at the stage on the Isle of Man, as Roger Daltry performed the entirety of Tommy. Lyle Lovett and his large (it's not big) band. Lisa and I stood in a special reserved seating area in Hyde Park and watched Bruce Springsteen sing Twist and Shout with Paul McCartney. I saw Live From Here at the Ryman Theater. Elton John playing solo for a small-ish crowd on the Isle of Man. The Tallis Scholars performing Palestrina near the Severn River. Bruce Hornsby. I'm With Her. Hot Tuna.
And yes, I have seen Doc Watson sing Columbus Stockade Blues.
I know I've left some important ones out, but even recalling and typing that list gives me shivers. So I don't write that title lightly. But there we were on Friday, August 5th, 2022, when the American Acoustic Tour came to Mountain Winery in Saratoga, CA. The line-up was the Punch Brothers, Watchhouse (formerly known as Mandolin Orange), and Sarah Jarosz – maybe that's enough for you.
It was certainly enough for me and Lisa to grab tickets, toward the front, as soon as we saw it was coming through. Mountain Winery is an extraordinary venue – outdoor, yet intimate. Artists love it, audiences love it, and it brings out the best in both.
But neither my love for the artists on the line-up nor the venue properly prepared us for what was in store.
It began, in the dawn of twilight, with the entire ensemble performing the bluegrass standard Little Birdie. First a cappella, then raging bluegrass, then a cappella again. We cheered, everybody waved and left, except Sarah Jarosz. I'm not doing any band bios here – their individual accomplishments (including her Grammys) don't tell the story.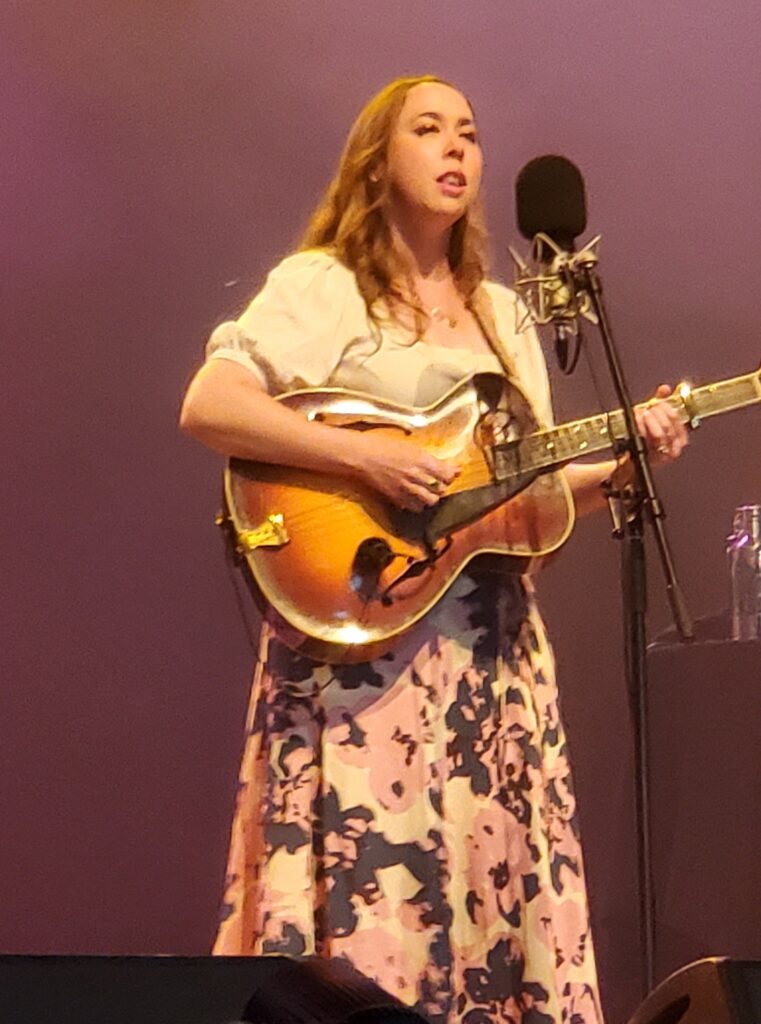 She performed a set of some of her hits, including a recent cover of U2's Still Haven't Found What I'm Looking For. She said, "You know the words – go ahead and sing along."
Which is a good place to tell you about the audience. Audiences for these artists come for the music. They are not there to party, and they make themselves part of the show only when it's appropriate.
Sarah said to sing along, so we did. We got to the last time around and Sarah stopped singing, just strummed along on her octave mandolin, a beatific smile on her face. She was accompanying the crowd, and everybody was thrilled with that arrangement.
Then Chris Thile came back out, and said, "What about this woman?" We cheered.
And at this point we need to talk about Chris Thile, his genius, and his ego. Yes, he has a big ego, and he likes to be in the limelight. But we humans are not a menu from which you can take what you like and ignore what you don't. His ego is inseparable from his once-in-a-generation genius. And his ability and willingness to have what the business world calls BHAGs – Big Hairy Audacious Goals.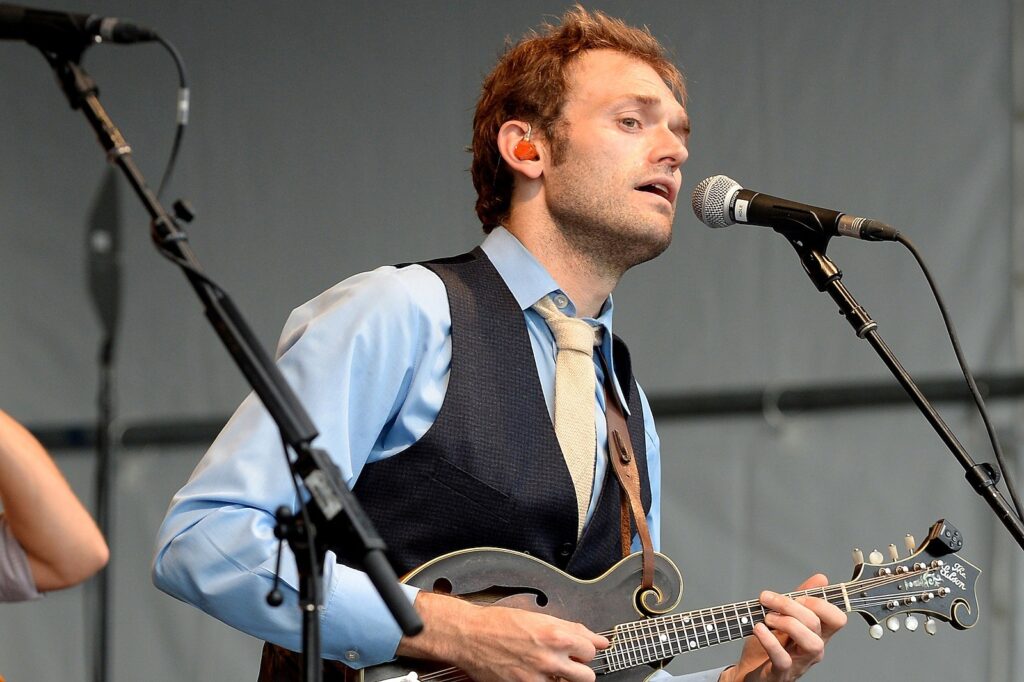 Anybody can put together a tour of great musical acts. But it takes, well, it takes a genius to say, "What if we move people on and off the stage for three hours? We create every possible permutation of the amazing musicians we have, performing each others' songs, and sometimes, songs that are 'foreign' to all of us."
Exhibit A: Sarah Jarosz has finished her set. Thile is out there. They invite out Watchhouse's cello player, Nate Smith. Perform a Punch, Jarosz, or Watchhouse tune? Nah, let's go to the classical section of the record store:
And with that, the show flowed on. Watchhouse, occasionally augmented by Sarah or Chris.
I need to mention that as Watchhouse performed The Wolves, with its chorus line, "But I'll go out howling at the moon tonight…," a beautiful half-moon shone down from a clear sky onto the Mountain Winery. I'm sure I wasn't in the only person in the audience with a lump in my throat. If you've never understood what The Wolves is about, neither did I, until I read this. Hint: it's not a feel-good song.
Then Punch Brothers, weaving their usual acoustic magic, with the audience singing along to My Oh My.
Then the impossible happened… Thile and fiddle player Gabe Witcher began making weird chopping, cutting sounds with their instruments, standing face to face, like Stills and Young, daring the other to do something weirder. As this scene played, Noam Pikelny started the magical drone on his banjo. Sarah walked out, and I realized they were reprising the Live From Here performance of Massive Attack's Teardrop. As did many in the audience, and we promptly lost our minds.
My wife calls this music, "The chamber music of our time." Some people will try to squeeze "grass" into the name somewhere. Sure, these musicians can (and do) fire up a bluegrass standard now and again. The instrumentation is there, and they all grew up on bluegrass, so when they play bluegrass and fiddle tunes, it's as good as you'll ever hear it.
But Itzhak Perlman playing klezmer music does not make klezmer music western classical music. It makes Itzhak Perlman a genre-hopper, and a genius one at that.
"American Acoustic" might be a great name for the genre, as well as the title of the tour.
One of the most glorious portions of the show was when all 11 musicians were on the stage. At times, there were 4-5 instruments being played arco (bowed), with the rest plucked. I will bet a lot of money that Gabe Witcher, a high-demand composer and arranger in L.A., was responsible for the string arrangements.
There was one song, sadly, I can't remember which one, that faded to a string quartet of Gabe and Emily Frantz of Watchhouse on fiddle, Nate Smith on cello, and Paul Kowert on bass, all arco. As the plucked instruments subsided, those players stood in a group and watched as the quartet brought the piece to a beautiful, mildly dissonant, heart-rending ending.
Anyway, as anticipated, the show ended with everybody on stage. [Except for Watchhouse's guitar player, Josh Oliver, and bass player, Clint Mullican.] It started with Chris, Emily, Andrew, and Sarah singing, "Rye whiskey, rye whiskey, rye whiskey I cry…" We all knew where that was going. But what if the Punch classic Rye Whiskey was played not by five great musicians, but nine great musicians? Recall when you saw Punch Brothers playing this live (you have, haven't you?). Now visualize 2x the horsepower, with the same verve and joie de musique…
Let me put this way: the shadows you see on the back wall behind the stage – that's how big those musicians really are.
Oh, and Emily Frantz sang Rye Whiskey like Thile had written the song for her. Her presence on stage is, in a word, overwhelming. For this tune, she abandoned the honey of her Tarheel voice and went full moonshine county. Pass that bottle over here.
Sorry, I gotta glance back at that. Watch at 2:50. You have Paul and Nate doing a bass/cello arco duet of the melody, while Andrew stands between them, best seat in the house, just grooving. At 3:08, Gabe and Emily land on it with both feet and we've got four masters playing the melody, arco, across three different octaves. Critter, who usually smiles, is grinning from ear to ear. He's heard and played this tune a hundred times, but man, never quite like this.
The encore, for which I was delighted to see Clint and Josh return, was not a song, but an entire set, and rather than me try to describe it, I'll pass you over to YouTube.
The second song is Can't Be Sure by the Sundays. It's a lovely tune, by an indy band with a passionate cult following. Kinda like… nevermind. I had never heard the tune, so went and listened to the original. The American Acoustic cover was accurate, loving, and brought their own vibe to it. Not surprisingly, Sarah crushed it.
The third encore piece was the Watchhouse classic Wildfire. And here, I want to address those of you who say that Thile's ego gets in the way. This is a Watchhouse song, Andrew is singing lead, and Chris knows exactly where his place is – to sing "Mmmmm" in the back-up. Then watch at 0:40. Guitarist Josh Oliver is kind of hanging back – Chris steps back and waves him up to the mic. It's Josh's band – he gets near the mic. Chris Thile is devoted to the music, and when that means he steps back, he does.
The very last tune looped back around to bluegrass. In this case, classic bluegrass gospel. It was if they were saying, "We know we've taken you on a light-speed tour to our own corner of the galaxy. We'll bring you back home to safe and familiar ground."
And as they closed the show, Thile held out his hands and emphasized the line, "…where all is peace and joy and love…" It was, without doubt, a final prayer and benediction.