[This article goes back to January, 2011 when I was living in Asheville, North Carolina. There's a legendary pub there called "Jack of the Wood". Every Thursday night was (is?) "Bluegrass Jam" night. The locals and tourists come down to eat, drink, and listen to live bluegrass music. The local musicians come down to pick and get free beer.]
I've talked plenty of times about the picking at Jack of the Wood. And I've often wished that I had pictures. I mean, every week we see flashes going off throughout the room – I assume we're becoming part of somebody's "My visit to Asheville" Facebook album.
But last week, a guy named Jai Beasley spent the whole evening taking pictures and I persuaded him to sell me a few images. Here's how I spend my Thursday evenings.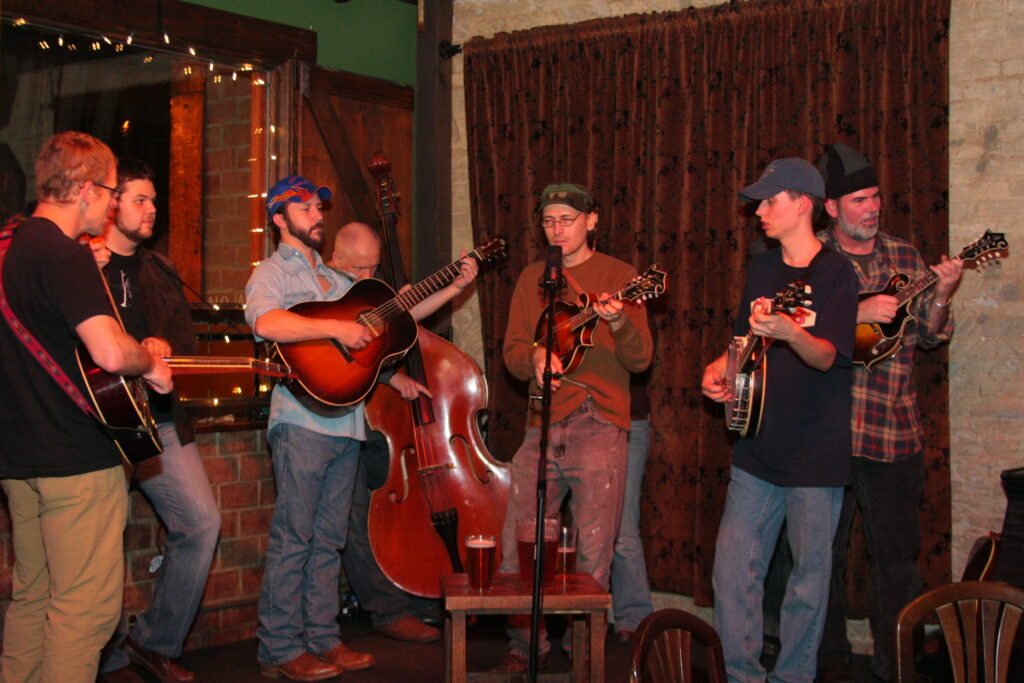 There's a guy who was a regular there back then – Jon Stickley. Jon's a stupendously nice guy and I'm honored to pick with him. The night that all these pictures got taken, I turned to John and said, "Do you ever think about how this is kind of magic? I mean, a bunch of people – many of whom barely know each other… we take these instruments made of wood and string, and this amazing music comes out of it and people are happy and smile and dance…"
Jon, a professional bluegrass musician, stared back at me. "Man, that's all I think about."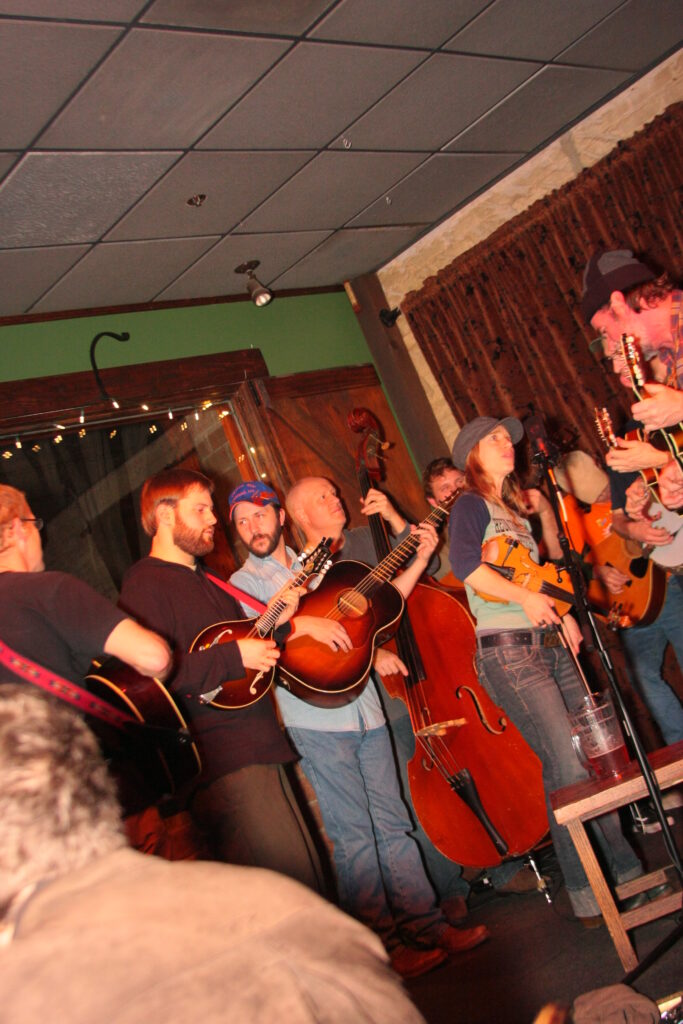 [Updates from 2022]
John now fronts his own trio, the "Jon Stickley Trio". You'll note that the fiddle player in that trio, Lindsay Pruett, appears in some of the pictures from 2011.
Another reflection from ten years on. You'll note that few of the musicians are smiling. It's not that we're not having fun – it's that there's a lot of concentration going on. I am reminded of a jam that we had at my house in Nashville when we lived there. We were fortunate and some very fine pickers showed up. I had also invited a member of my extended family who lives in Nashville. He plays guitar but is not really conversant with the bluegrass thing. During one song, I leaned over to him and said, "Do you want a break (solo)?" He shook his head. "No man – this is serious business."
He meant that the music itself was serious business that required focus and concentration. And I also inferred that he didn't feel comfortable taking a solo among the hot pickers around us. I get it – I've been there plenty of times. Weaving magic from wood and string is, indeed, serious business.