It was right when the Covid vaccine became a reality that I knew we'd have to book the trip sooner than later. The entire nation – the entire world – had been under a pall for a year, and nobody was traveling. Then, in late 2020, it became clear that vaccines were right around the corner. At the time, we thought that would be banishment of Covid, as we'd banished polio and smallpox. Silly us, but that was the belief.
I knew that when people realized that travel was an actual possibility, they'd start booking vacations as fast as their browsers could get to Expedia.
We'd been selling our granddaughter, Elena, on Hawaii since she was old enough to look at pictures of tropical fish. Apparently she bought what we were selling because it reached a point that she'd hear a mention of Hawa'i, and say, "When am I going to Hawai'i?"
I wanted to be able to say, "For your 7th birthday," so I planned and booked a vacation house for December of 2021 in September of 2020. Yes, the others involved looked at me askance, but such long-term planning feels quite normal to me. Like I said, I thought that a covid vaccine reality would cause a run on vacation destinations like had never been seen in modern times.
We ended up here, along Ali'i Drive, right at the Mile 3 marker.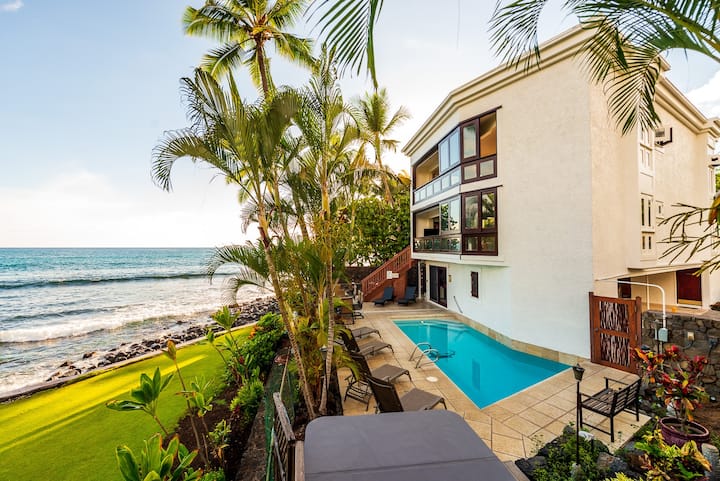 John and I landed at the Kona airport on December 13th, and had an evening to do grocery shopping and get dinner at On the Rocks. And then enjoy our first sunset from the upstairs porch: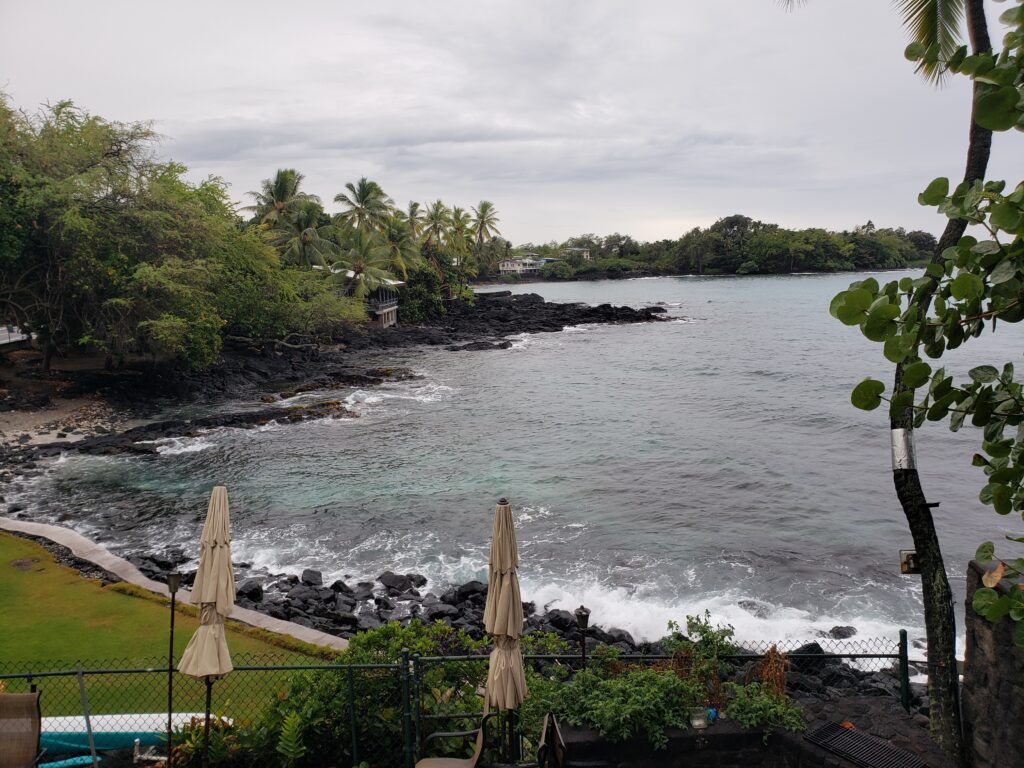 The next day, Lisa and Liz flew in (I got real good at airport pick-up and drop-off by the time we were done), and got settled. The day after that, David, Mary, and Elena flew in, got their own car, and just rocked up at the house. Elena was immediately in love with the place because of this: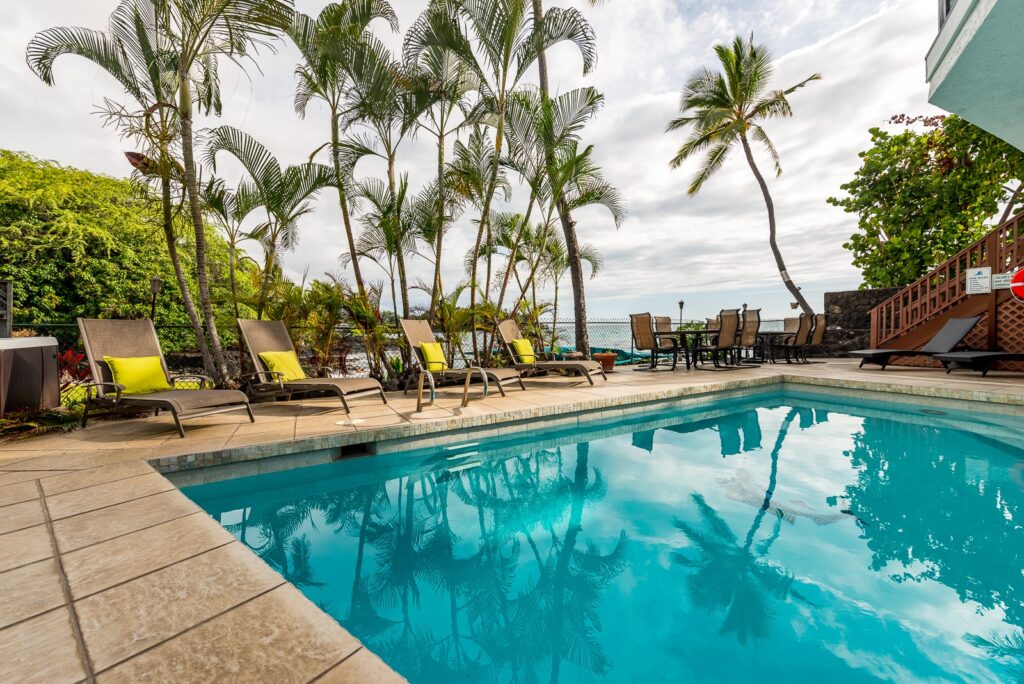 Okay, so Elena's favorite part of the house wasn't the pool. It was the elevator. The house has three floors, and while there are outdoor stairs connecting all three, the elevator is way cooler if you're seven years old. But the arrangement (the stairs, not the elevator) allowed Elena, and then Elena and Amelia, to flow effortlessly among three floors of family and friends.
Our first morning, we all went down to Kahalu'u Beach, just two miles south, and the most popular snorkeling beach on the Kona Coast.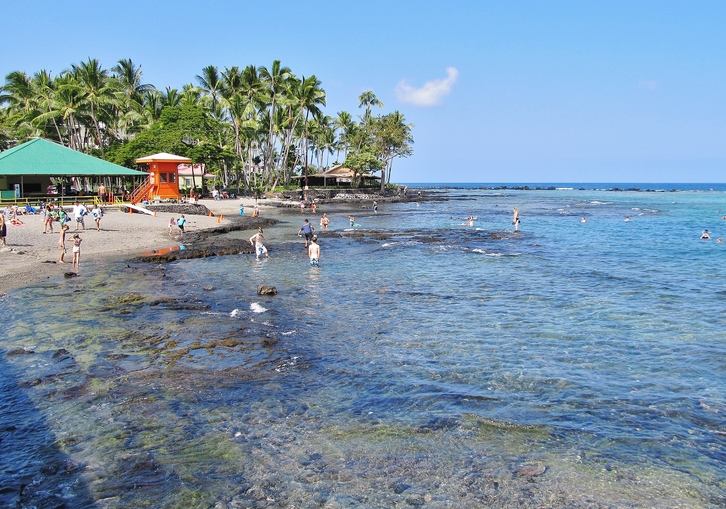 Elena had been practicing with her snorkel and mask all summer, getting ready for this day: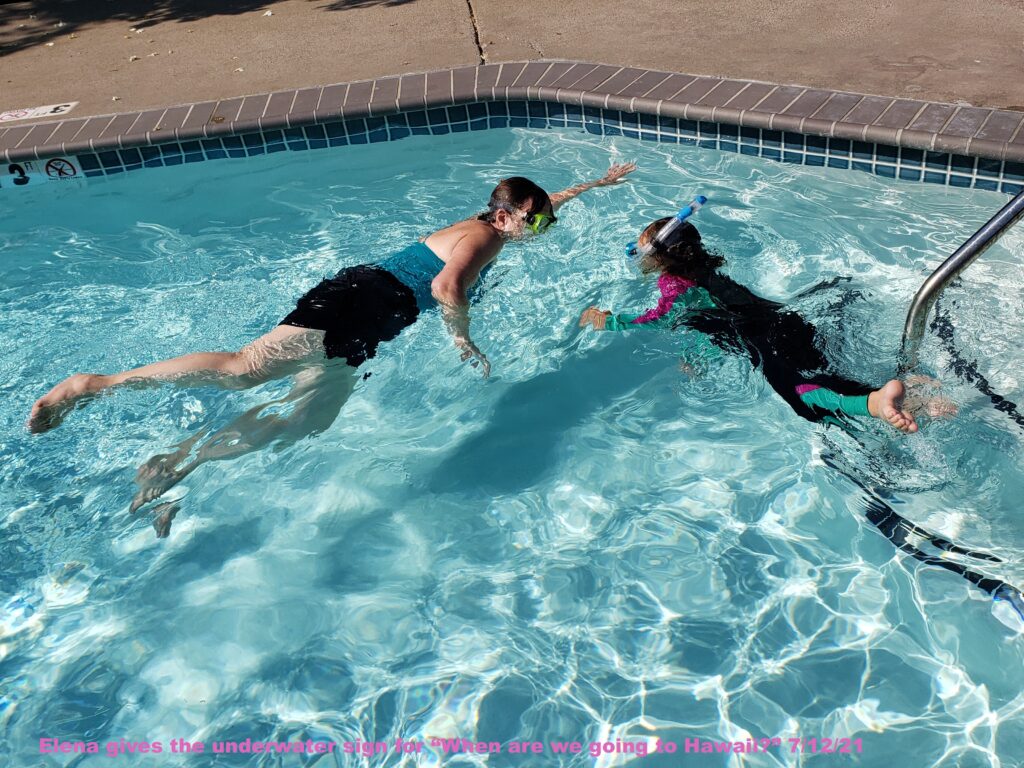 And was zipping all over the community pool looking at pretend critters and practicing all the critter signs we taught her. But you will note that she's not wearing fins. She wasn't the least interested in the fins, and even as we loaded the car to drive down to Kahalu'u, she said, "I don't want my fins." We took 'em anyway.
We got there, and got her into her wetsuit. Which was just barely big enough for her by the time December rolled around. But fortunately her dad knew a technique that he'd seen me use on his brother 20-odd years ago:

Then she sat down on the rocks at the edge of the beach, and saw dozens of other people with fins on.
"Let me try my fins."
We put the fins on her. She then stuck her face in the water, and saw a couple of yellow tangs, a few sergeant majors, and maybe a black durgeon swimming around.
She was gone. I mean, she was in the water, hauling after those fish, just as she'd been doing in the swimming pool. What immediately struck me was how good her fin technique was. Most people, when they first get fins on, bicycle their legs. The goal is to keep a slightly bent knee, and kick from the hip. For whatever reason, that's exactly what Elena did, and she motored through the water like a speedboat.
"I guess one of us better follow her."
Which is what we'd do on every snorkeling outing for the next 2.5 weeks. This first day, we all kicked to the outer part of the park area, where the water was a bit deeper and there were few people. With multiple spotters around her, Elena would zip from person to person – whoever had something interesting to see.
Pretty soon, John found a moray eel, and yelled to the group that there was a moray under him. Elena appeared out of nowhere, and was yelling into her snorkel, pointing with one hand, and giving the "moray" sign with the other, above the water, so everybody would know.
We learned that 30-45 minutes was about the limit of what we could do before Elena became chilled and/or exhausted. But I cannot overstate the joy and fun that we'd have during that time period. Elena would rarely have her face out of the water, and within a few days, she was free-diving down to 5-7 feet to get a closer look at the critters.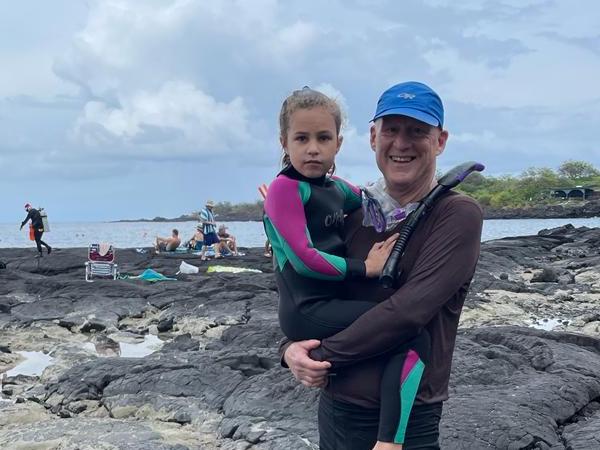 Snorkeling with Elena was easily one of the top one or two highlights of my trip.
The next awesome thing was Shannon and Amelia Ozceri showing up. Unfortunately, Berend couldn't get away because of w*rk, but we were delighted to have 2/3 of the Ozceri clan there. When I went to pick them up at the airport, Elena said, "I wanna go!"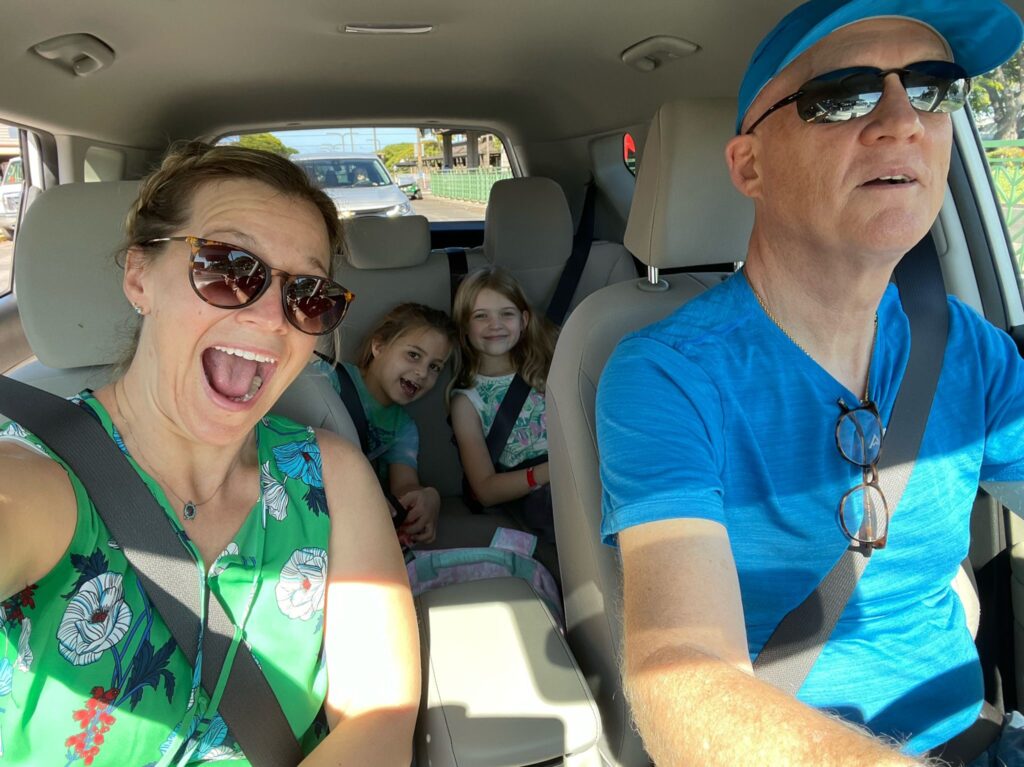 From that point on, Elena and Amelia were pretty much inseparable. There was occasionally some friction, which is to be expected. But mostly they had a blast with each other. Sharon and Amelia shared a room up on the 3rd floor, the same floor that David, Mary, and Elena were on. So early in the morning, we'd hear feet running around upstairs as the girls got breakfast and ready for the day.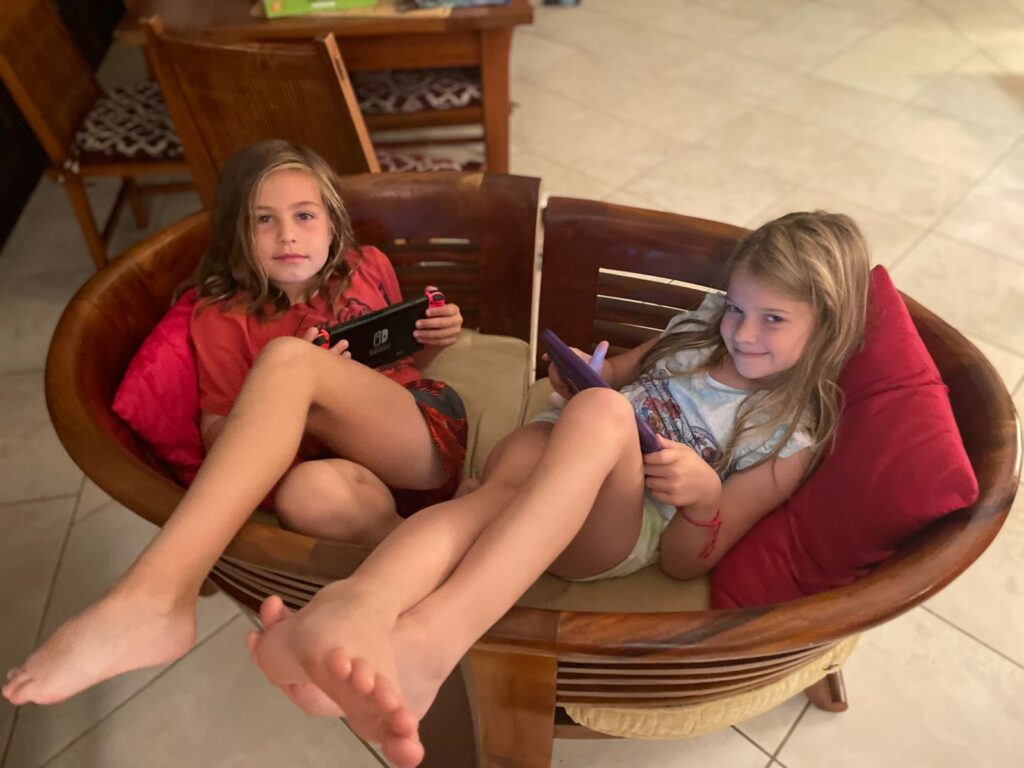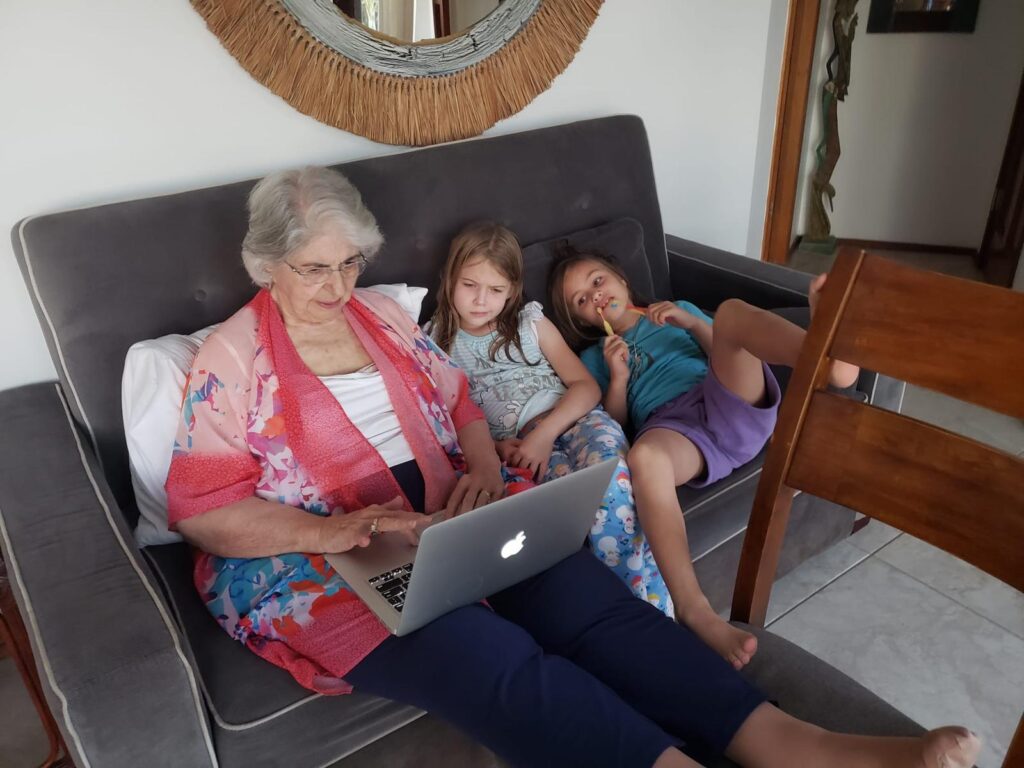 Unfortunately, we never got a picture of it, but the girls also commandeered the walk-in closet in the master bedroom and turned it into a fort. They would sit in there for long periods, Elena drawing, and Amelia reading Harry Potter.
Except when they were in the pool.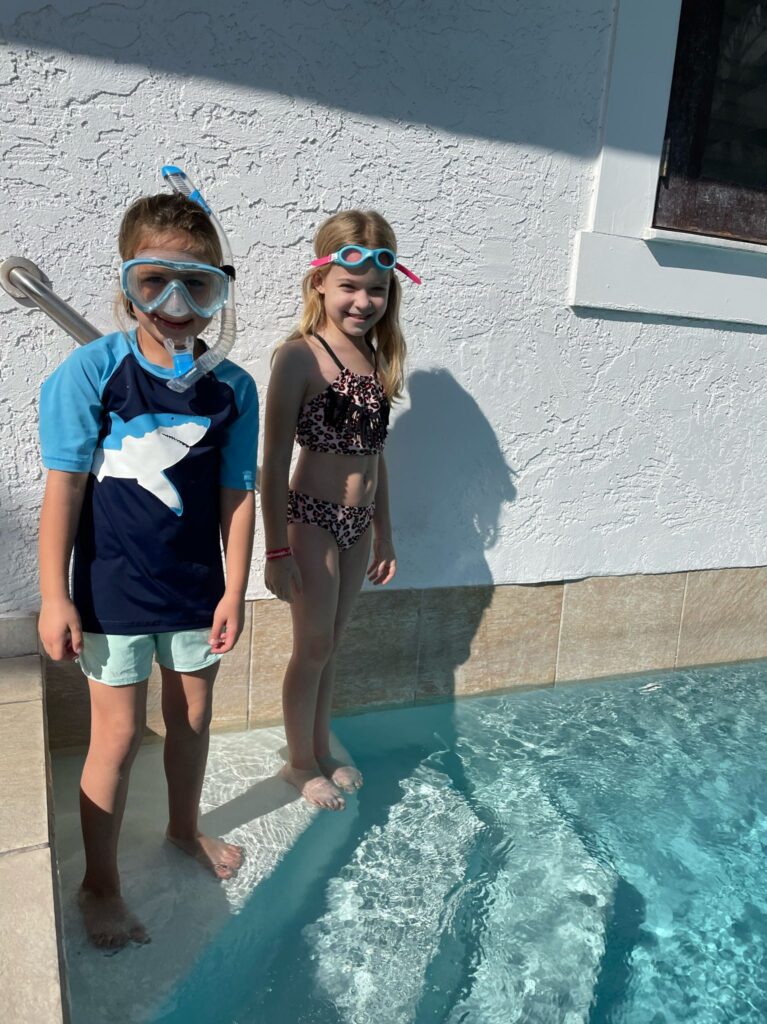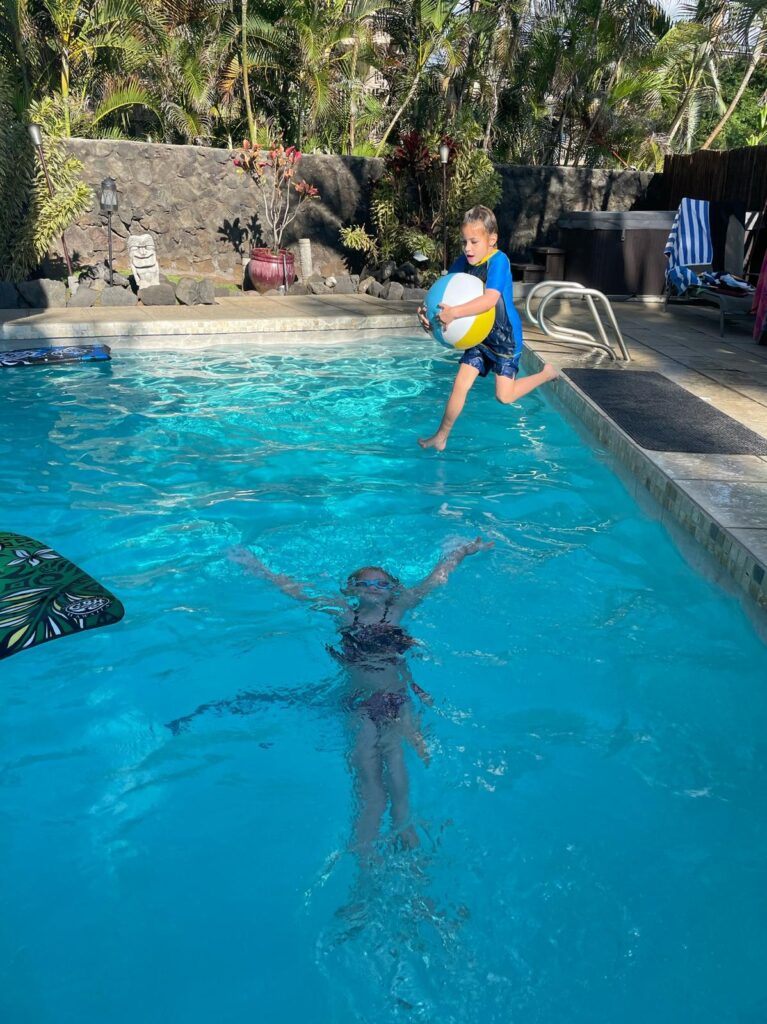 Maybe my favorite part of the whole trip was the family dinners at the outside table. As the sun was setting, we'd prepare meals in one or both kitchens, and carry them down the stairs. Then we'd sit 15′ from the ocean and 5′ from the pool, eat and visit.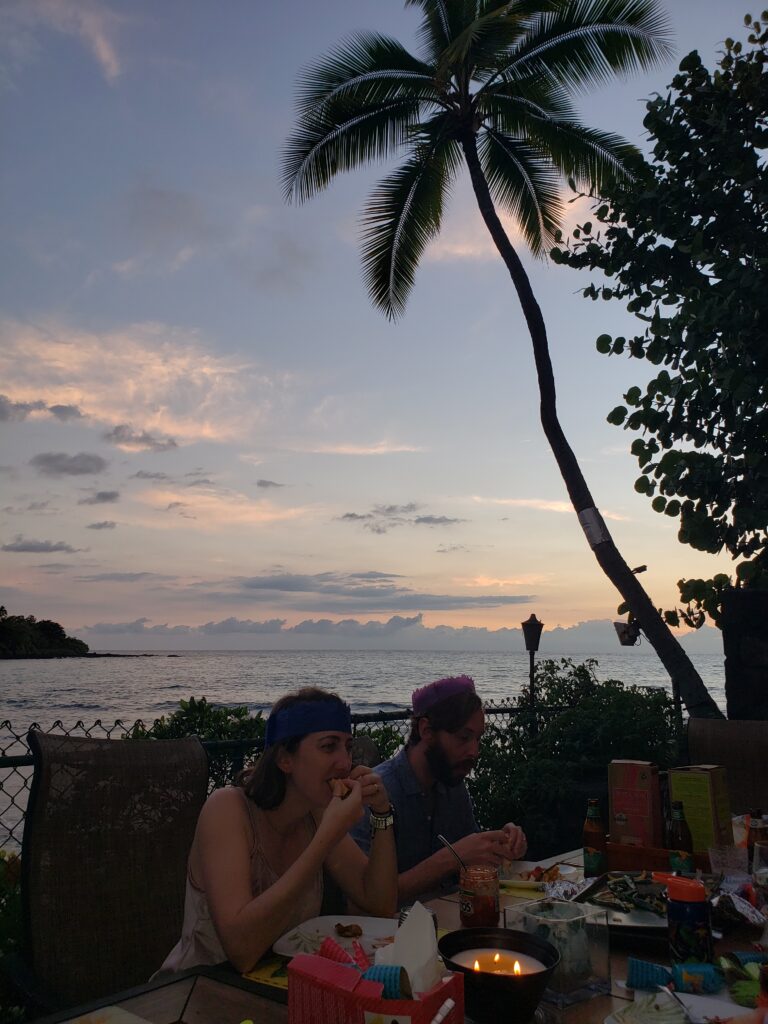 A couple of nights, we brought in restaurant food, but mostly we just cooked simple meals. Pretty soon, Amelia and Elena would get bored with the grown-ups and retreat to the lounge chairs next to the pool. So they were content and we were content to enjoy the evening and watch the sunset.
Evenings – well, they went pretty quick. It was time for the girls to get ready for bed, and most of us would settle down soon after dark and think about what was coming the next day. Which always started with coffee and…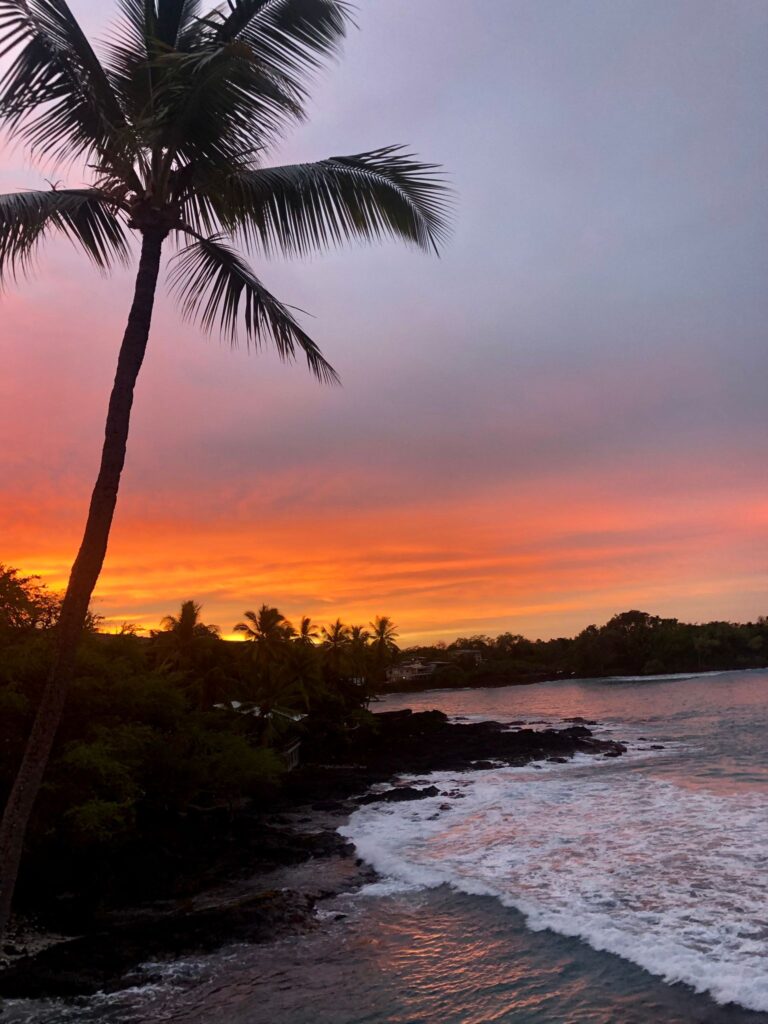 There were a couple of women who would come out to surf and enter the water right below us, always between 6:30-7:00am. So we'd drink coffee with the big windows open and watch them head out. We could also see the surfers, a little further down the coast, catching the first waves of the day.
We finally got the group all together when Shelly and Kevin made it in from Austin. With that, there were 12 of us, and it was absolutely glorious chaos. They were on the ground floor with John, and they'd stay up half the night, then sleep in. But they were always up for whatever was going on.
One day, we all went out on a dive boat with Jack's Dive Locker – it was a private charter, so it was just our family. Lisa, John, and I were on scuba, and everybody else snorkeled. Amelia and Elena lost their minds snorkeling at the dive sites, and were constantly peppering the guide with questions about what they saw.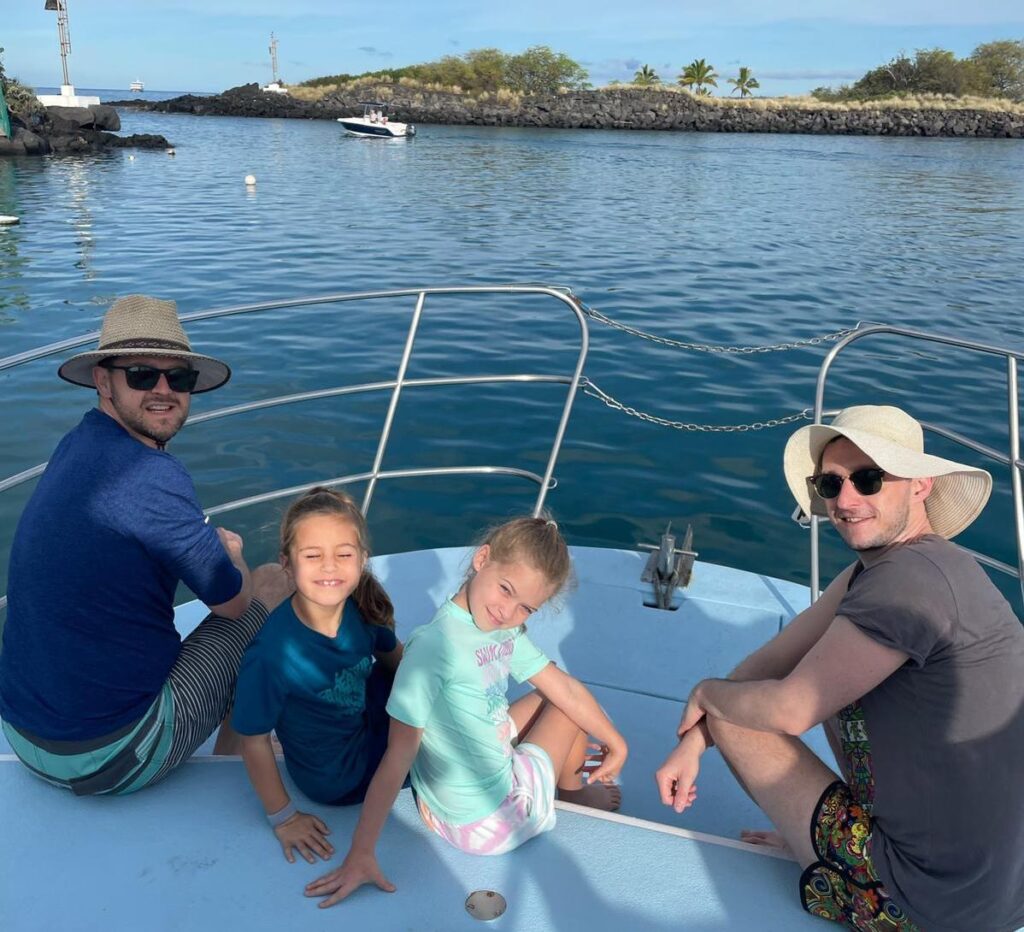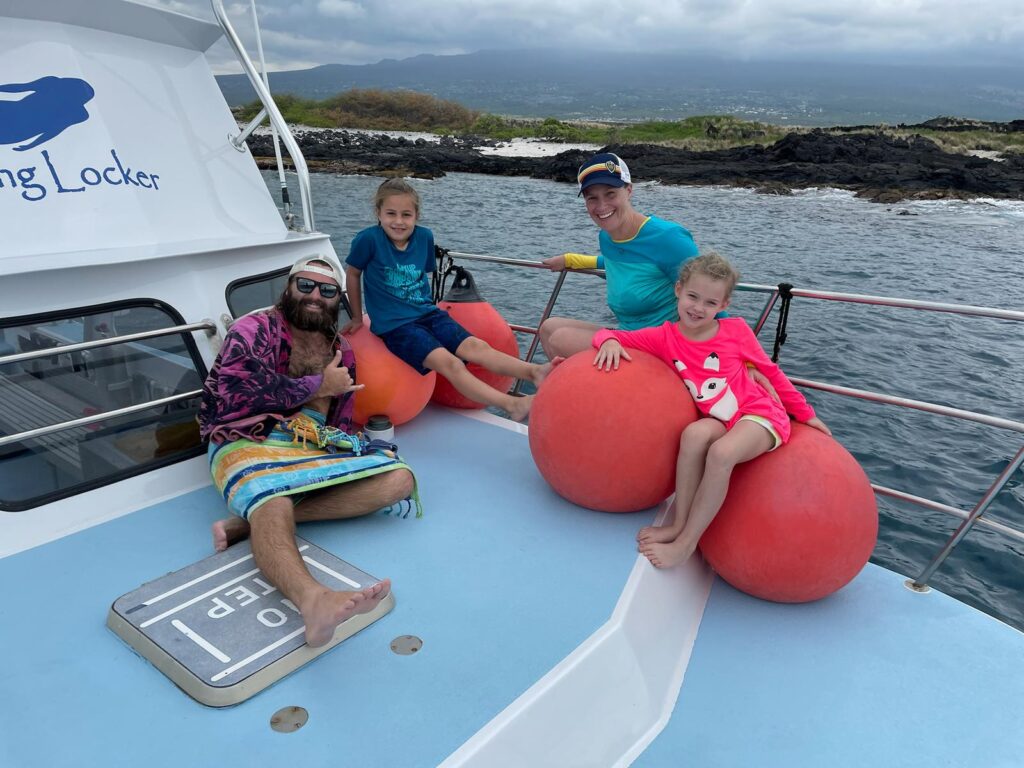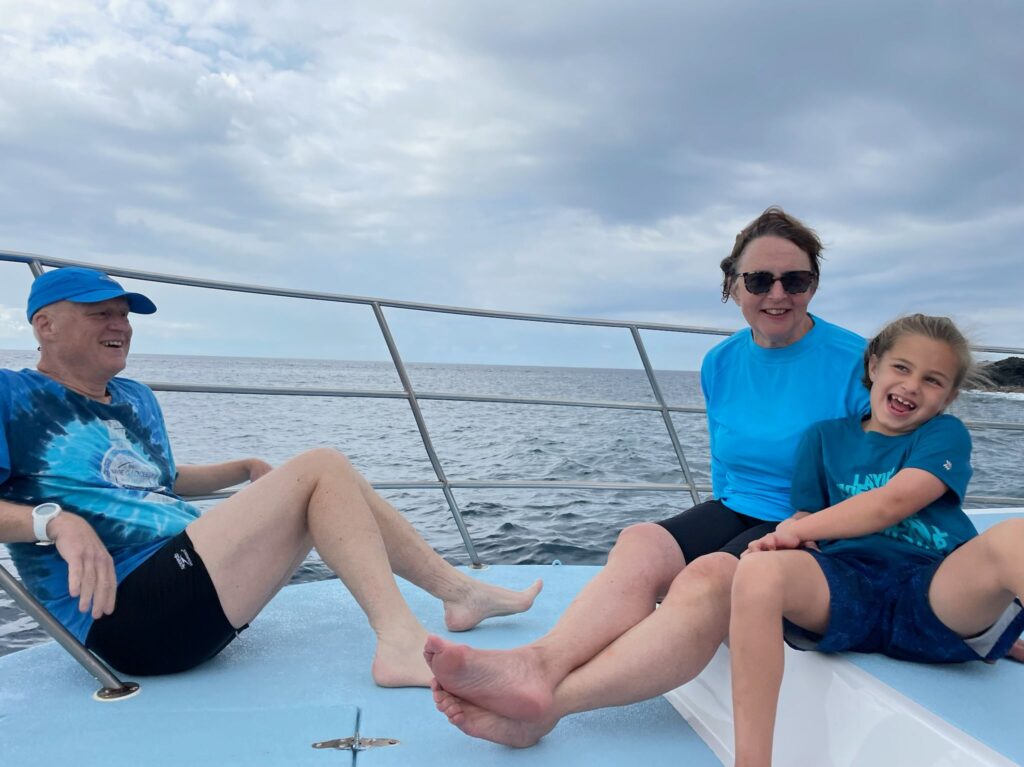 Another day, David, Mary, Elena, Lisa, Shannon, and Amelia went up north to Kohala to ride horses across the pastures there. Both Shannon and Lisa are horsewomen of decades of experience, but they said they'd never done something like that. It was obviously an amazing experience for all.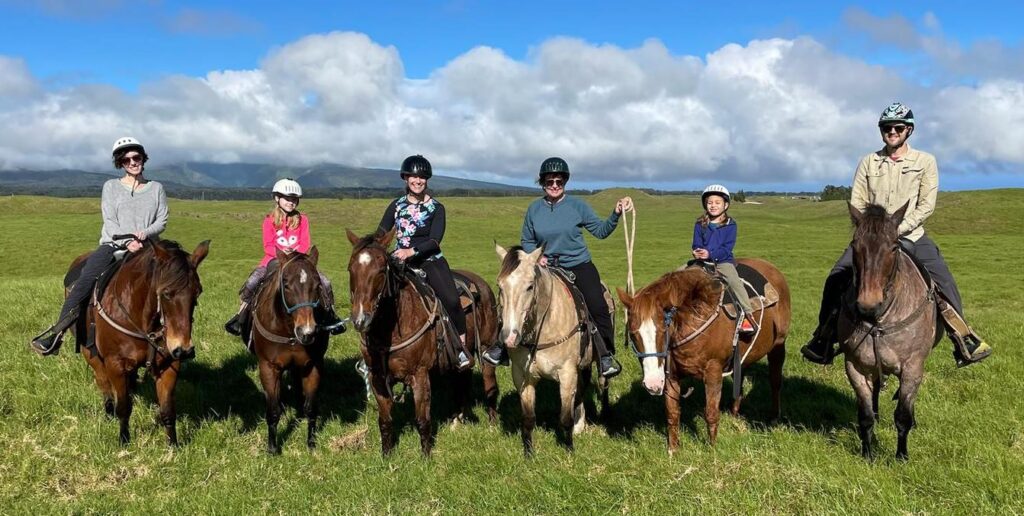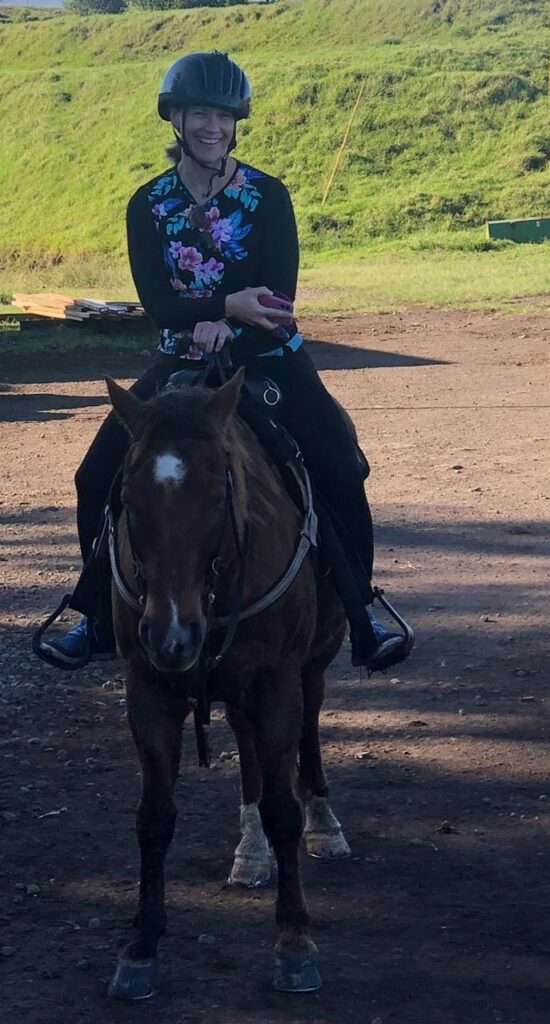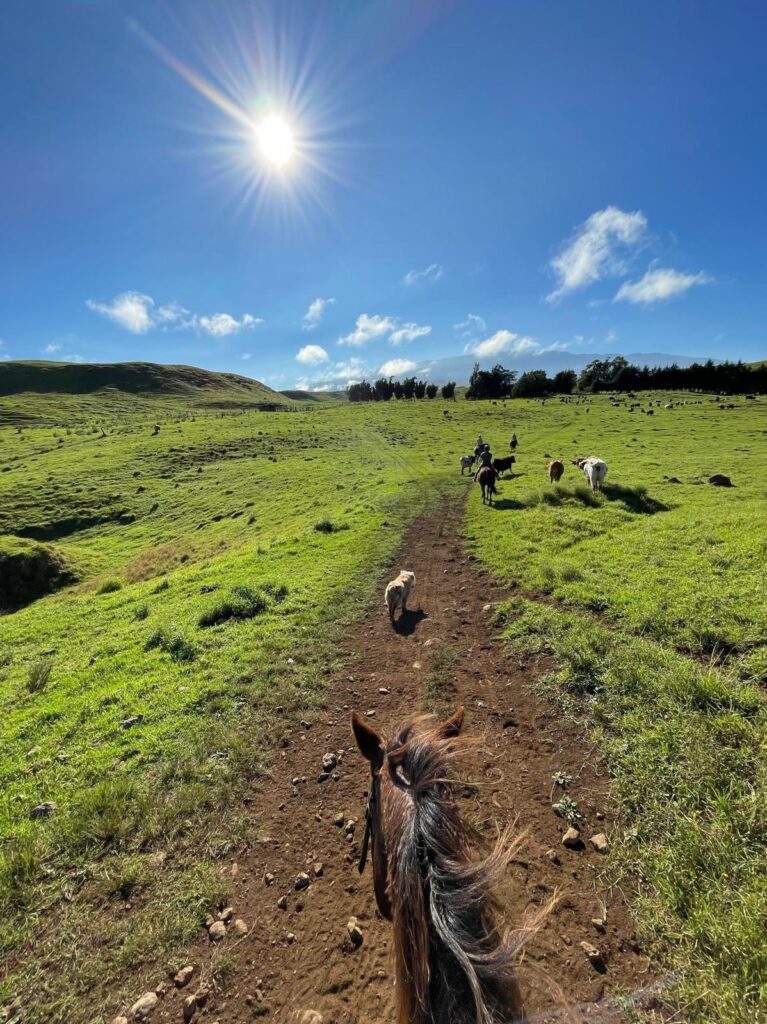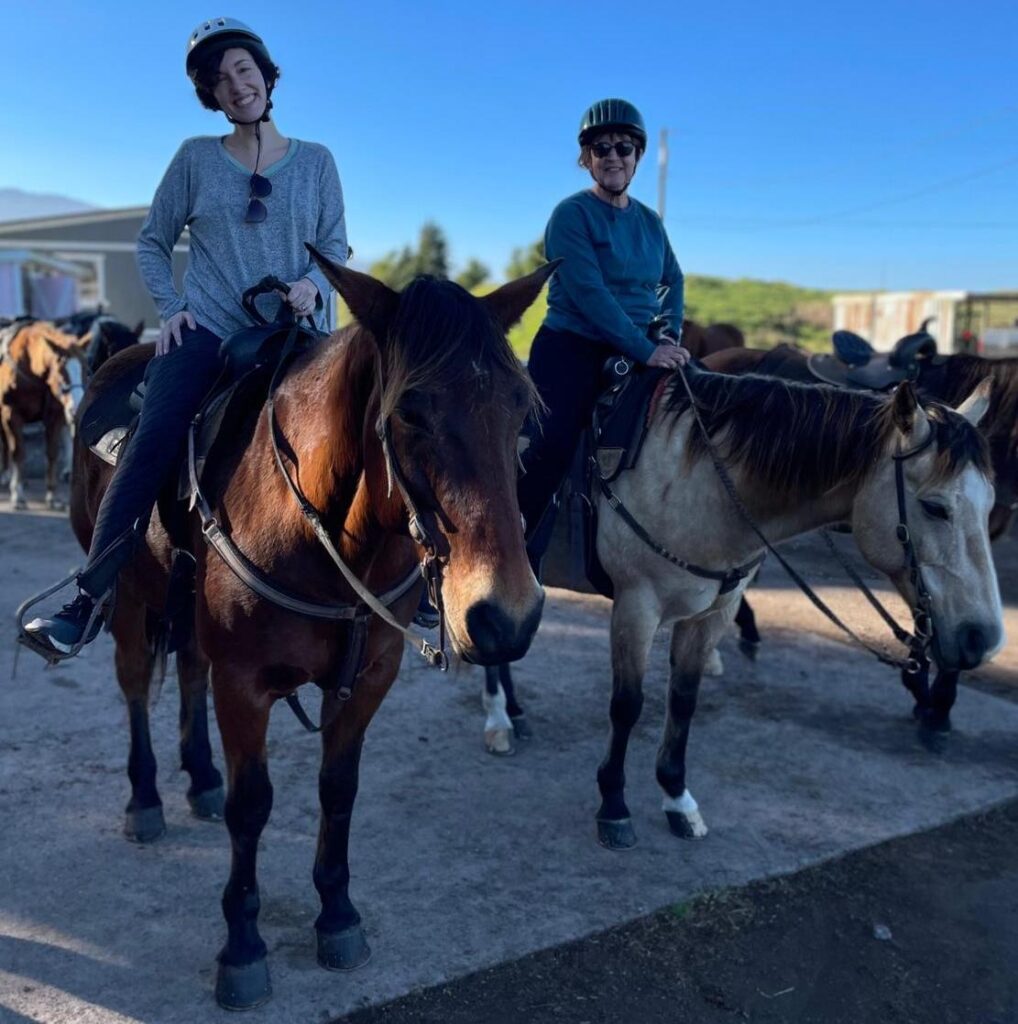 One day, we all went down south to try a beach down there, but it didn't really work out. What did work out was stopping for lunch at a cafe. There was no way we were going to get a seat inside the cafe, and it was raining, so we had a picnic in the car.
And that's what's amazing about our crowd – when it's raining, and things don't go as planned, nobody panics. We just switch to Plan B. Or Plan C. Elena and Amelia think that Plans B-F are just how life goes. In fact, Elena learned about "Plan B" from the Kratz Brothers, so when you say, "We're switching to Plan B," she just rolls with it. Including eating pizza in the back of a car in a cafe parking lot.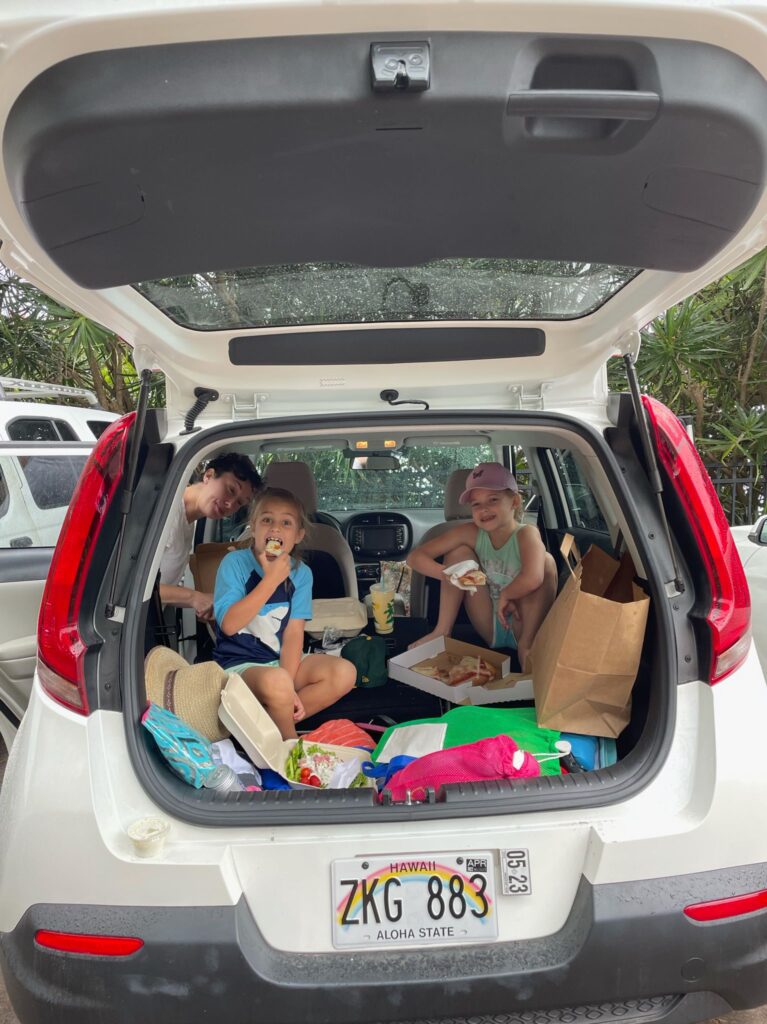 David, Mary, Elena, Shannon, and Amelia went kayaking at Captain Cook one day. They said the snorkeling boat crowds were insane, but I'm pretty sure they had a good time…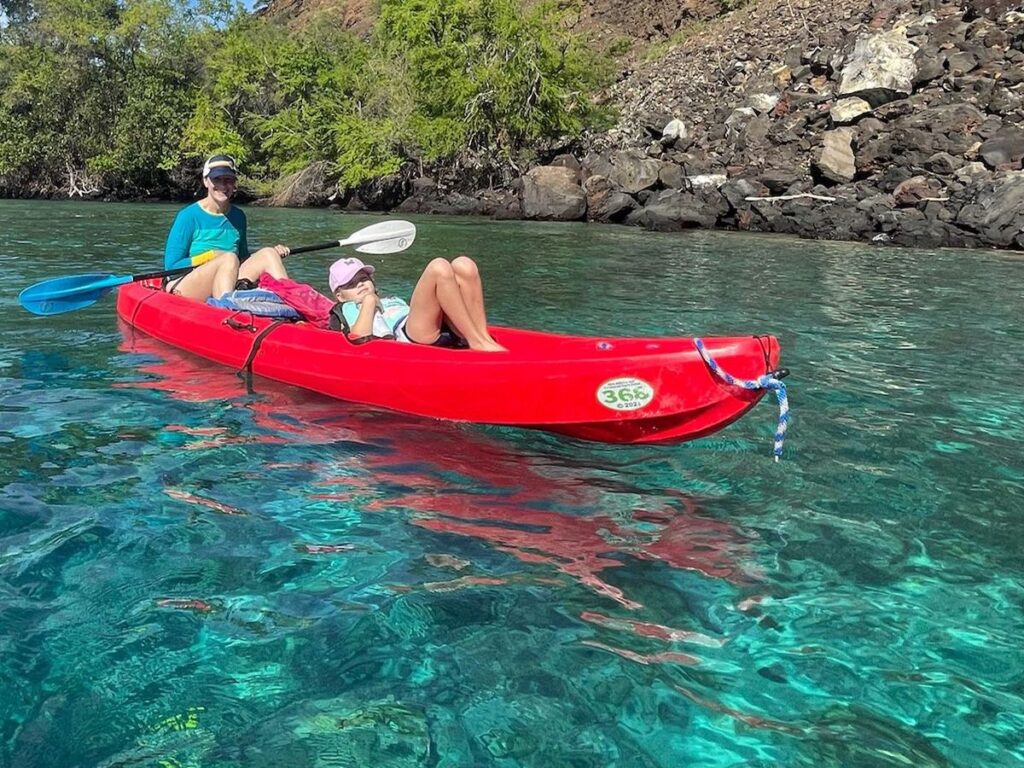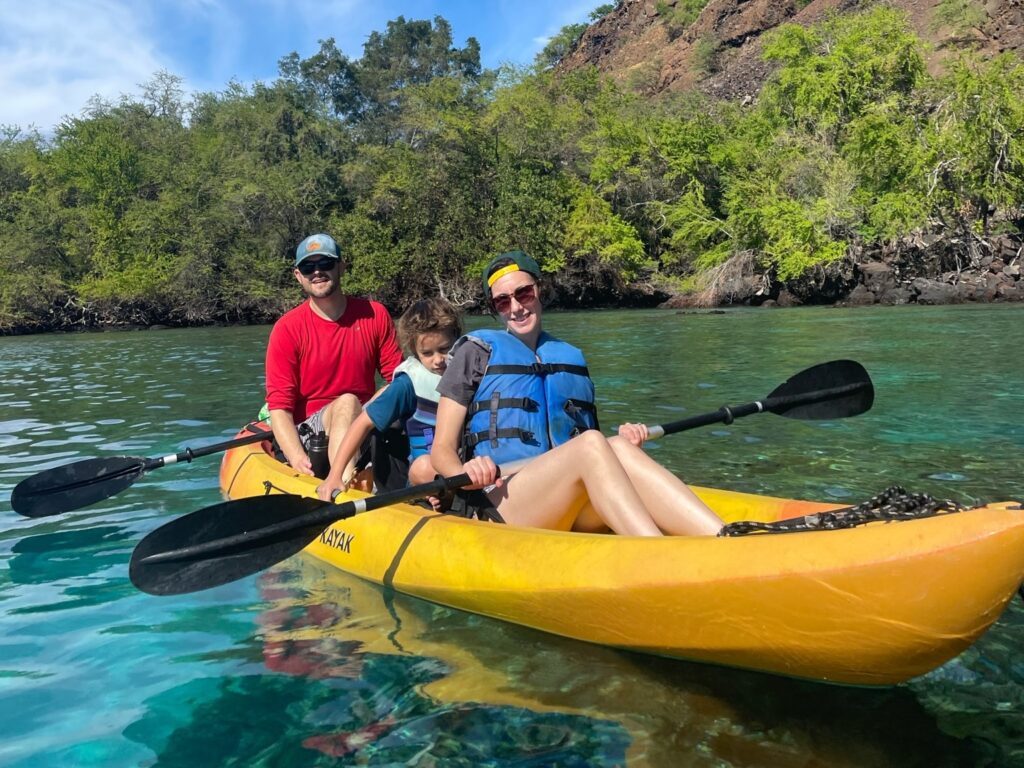 One evening, we all went out to a luau. It was at the King Kamehameha, i.e. the in-town luau that's been there for 20 or 30 years. Watching the girls watching the keikeis perform was worth the whole thing.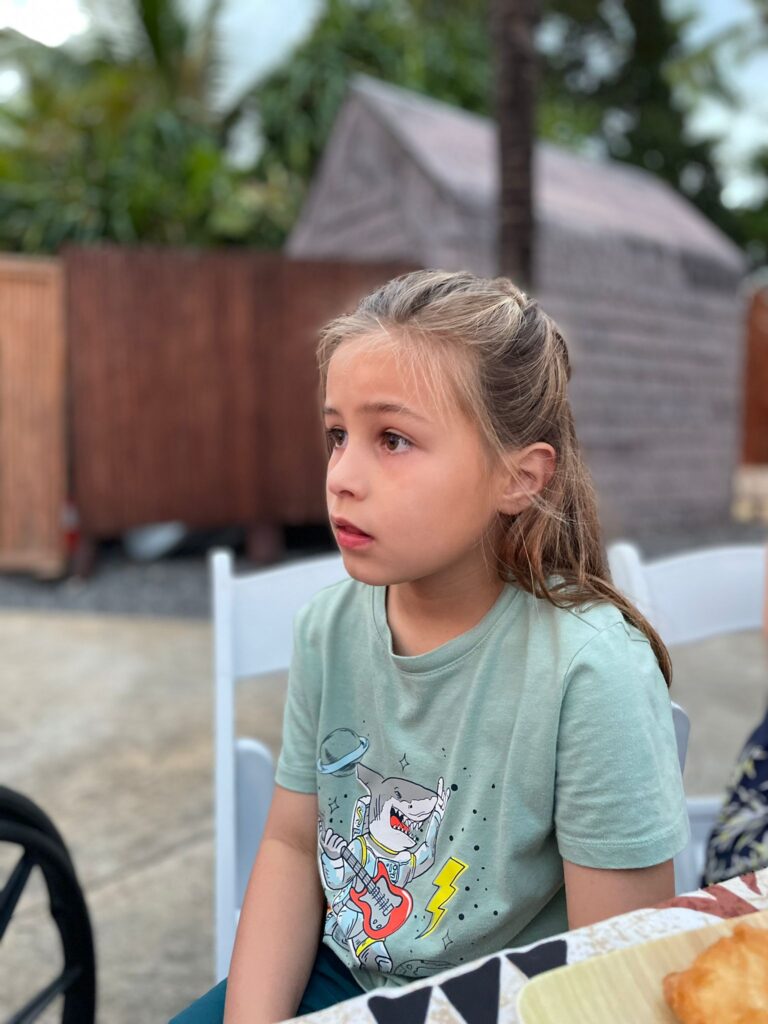 Elena's birthday (known by others as "Christmas") came toward the end of the trip. We wanted to make the house a little special around Christmas time, but Christmas trim pickings were slim. However, somehow I found the perfect things: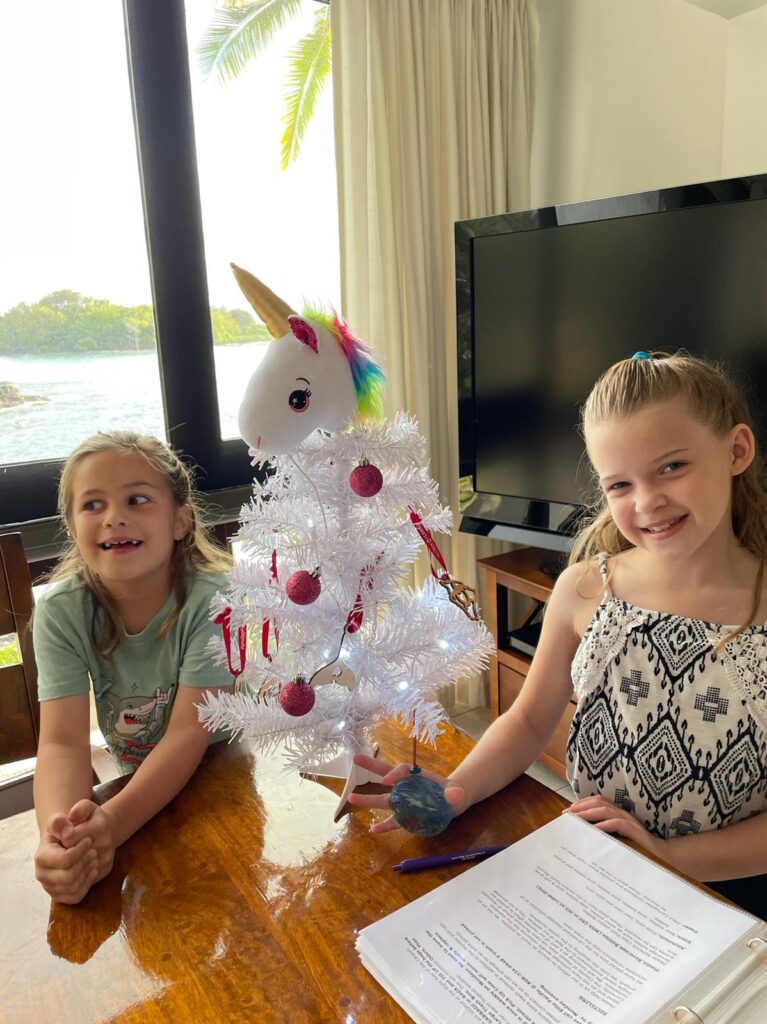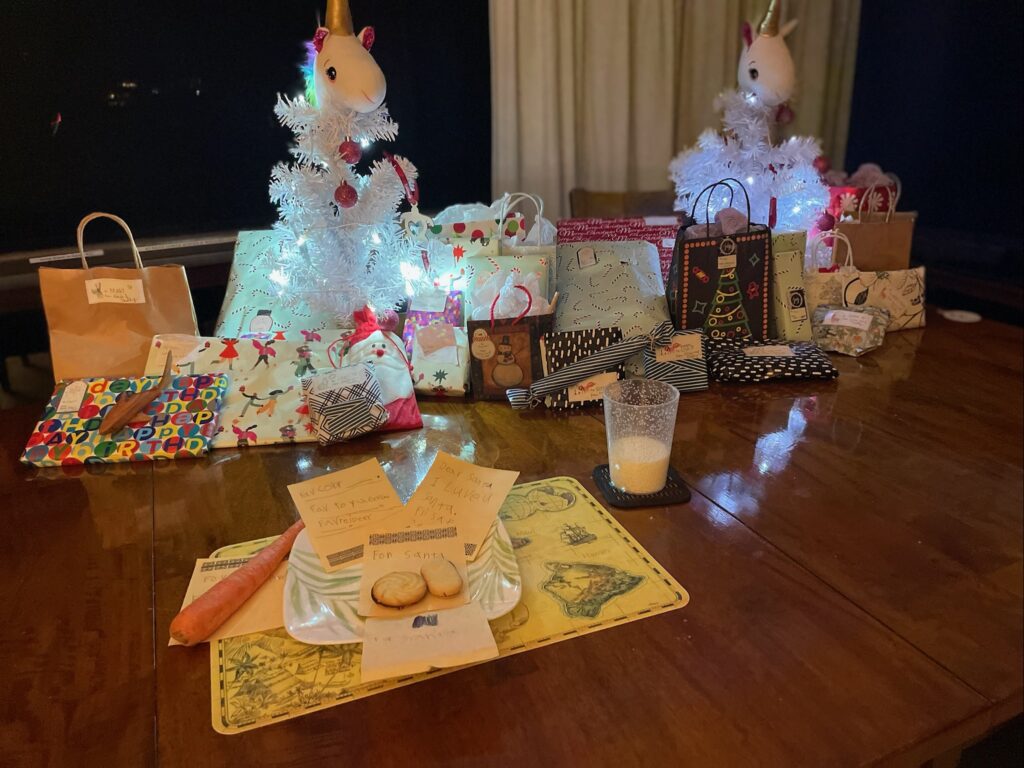 Finally, on December 29th, the last of us (Lisa, Liz, David, Mary, Elena, and I) closed up the house and headed to the airport. John and I had arrived on the 13th. It was time to go home, but it was hard to leave. What sticks with me are the memories…
Coffee with the windows open watching the surfers and paddle boarders go out.
Snorkeling with the girls and watching them lose their minds at the ocean.
Extended pool sessions until we dragged blue-lipped girls, kicking and screaming, into towels for post-swim snacks.
Board games in the evening
Renewing and creating bonds among the Haupert/Jones constellation members. Shannon, Amelia, Kevin, Shelly – they are family to us and we are all blessed to have them. @Berend – it sucked more than anything ever sucked that you weren't there.
Dinners around the big table, with the beach 30′ behind us, and the sun setting.
Taking Kevin for his first two scuba dives ever. We had a blast, and at no time on either dive did we die.
Christmas/birthday celebration with impossibly tacky, but perfect, lit-up unicorns.
Four generations of our clan at the luau.
Things flowed, plans changed. Restaurants were full or couldn't seat us because they were short of staff (covid). Rain came and kayaking had to be postponed. No matter what, we had a blast, and I was blessed to be part of it.
[To see any of these images full size, just right-click and select "Open in new tab]